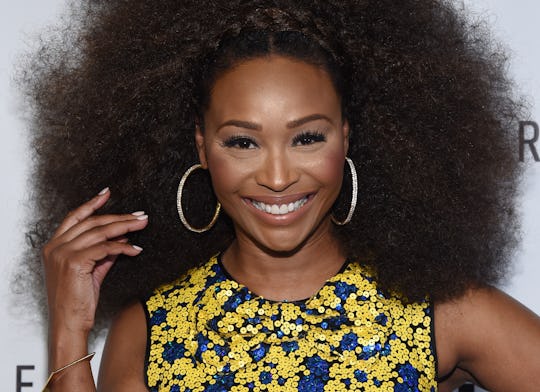 Ethan Miller/Getty Images
Is Cynthia Bailey Single? The 'RHOA' Star Is Living It Up After Her Divorce
On Season 8 of The Real Housewives of Atlanta, Cynthia Bailey's storyline focused a lot on her relationship with her husband Peter Thomas — or rather, the disintegration of that relationship. The couple was married in 2010, but unfortunately, their marriage was not meant to last. So is Cynthia Bailey single now? This "Real Housewife" is moving on with her life... without Peter Thomas.
Much of the drama with Cynthia on Season 8 of The Real Housewives of Atlanta focused on her marital issues. One of their major problems, highlighted by the show, was the fact that Peter spent a lot of his time in Charlotte, North Carolina, because he owned a restaurant there. Meanwhile, Cynthia was left alone in her home in Atlanta. As what tends to happen when a couple faces long distance, cheating rumors abounded. But regardless, it was clear that if these two were going to make it work, it was going to be an uphill climb. During the time of filming, they definitely gave love another chance, but it looks like it just wasn't meant to be. Season 9 should give us more details on how exactly the divorce went down, and how Cynthia and her young daughter Noelle are dealing with it now.
As reported by Us Weekly, Cynthia has basically vowed never to get married again, saying:
I was in love with Peter, but I'm just not wife material. I will never be in a relationship again where it will take a lawyer for me to walk away. I will never marry again.
So good on her for deciding what she wants and sticking to it. She also took the opportunity here to assert her belief that Peter never slept with another woman, and those cheating rumors were totally false. The simple reason for the divorce was that she was not at peace in her marriage.
But don't feel too bad for Ms. Bailey. She has recently purchased a gorgeous lake house near Atlanta, moving out of the gigantic home she once shared with Peter. And by all accounts, the split has been pretty amicable. In fact, Cynthia even shared pictures of her wedding day with Peter on her Instagram while they were in the middle of their divorce, including the hashtag #BetterOffFriends. All I can say is, good for her!