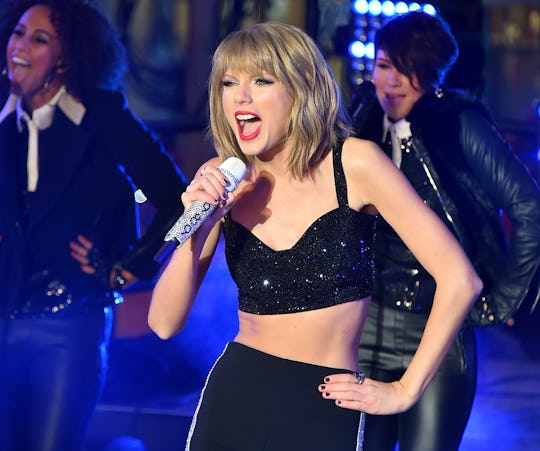 Theo Wargo/Getty Images Entertainment/Getty Images
Here's Why "Dancing With Our Hands Tied" Is Totally About Calvin Harris
Listening to a Taylor Swift album is basically like reading her diary entries about all of her crushes and breakups. Which is why it's so much fun to pick through the lyrics and figure out who she's talking about. Now that we have all of Reputation, some fans think that "Dancing With Our Hands Tied" is about Calvin Harris and you know what? They're probably right.
Just in case you're new to T-Swift's world, Harris is a 33-year-old DJ who she reportedly dated for about a year and half in 2015 and 2016. Their relationship was very public, as was their breakup, since Swift was spotted with her next boyfriend, Tom Hiddleston, soon after the breakup. That summer, there was not a day that went by without Swift and Harris (or anything pertaining to her love life) in the headlines, as she was riding high on the success of her Grammy award-winning album 1989.
They later ended up feuding for the most bizarre reason on Twitter. Swift had appeared on his track "This Is What You Came For" under a pseudonym. She apparently didn't want to detract attention from his album, but then ended up doing so anyway. Harris snapped at Swift on Twitter, according to Us Weekly, and basically told her to stop bringing other people into the spotlight with her as to stir things up in the media.
He was not thrilled. In his defense, Swift was also often spotted with Hiddleston at the time, so it must have been hard to watch for Harris.
Harris and Swift were very tight, and although she's reportedly in a new, happy relationship with actor Joe Alwyn, it looks and sounds like she's had some trouble moving on from Harris, as fans speculate. For starters, in the "Look What You Made Me Do" video, fans caught a few things that could be messages for Harris, but one glaring example is that during the zombie scenes, Swift is coming out of a grave marked "Nils Sjöberg," the pseudonym on the track that caused so much #DRAMA.
And that's not all. In a recent video for Target advertising these two magazines that Swift is making with her paintings, one savvy Swiftie zoomed in and found that Nils Sjöberg is also on one of the paintings. Like, she is not letting this alias go, and perhaps Harris, too.
So, what about this "Dancing With Our Hands Tied" jam? For one, it's one of the more dance and pop influenced songs on the album, what Swifties lovingly call a "bop." But the lyrics are shady AF and it's definitely about Harris, if only because the song begins with her singing about being 25 years old when she meets this love interest in the song — and IRL Swift was 25 when they started dating. One part goes, according to Genius:
I could've spent forever with your hands in my pockets/ Picture of your face in an invisible locket/ You said there was nothing in the world that could stop it/ I had a bad feeling/ And darling, you had turned my bed into a sacred oasis/ People started talking, putting us through our paces/ I knew there was no one in the world who could take it/ I had a bad feeling.
The song is all about her just having a sinking feeling that the relationship wouldn't last and the whole "people started talking" really seems to be a reference to the press, the paparazzi, and who knows who else that hound Swift wherever she goes. The song, if anything, sort of seems like Swift has come to terms with the ending of that relationship and understands that they let outside factors get the best of them. (Haters will likely claim that Swift is, yet again, blaming the media attention for her stuff, but whatever.)
One fan aptly tweeted that "Dancing With Our Hands Tied" was the new "I Know Places," which Swift herself said was about the same idea; A new romance is so good until "the world gets a hold of it," as she put it in an interview with Billboard. So this is kind of the same thing — being in the public eye, and growing up in public, really, is something Swift struggles with all the time, relationship to relationship.
The chorus repeats that they were "dancing with their hands tied," which is apt since Harris is a DJ, but also implying that, like most breakups, it was no one's fault. Their hands were tied. The song is definitely about Harris, but it works as a peace offering more than a tell-all. Maybe the two will reconcile after all.
Check out Romper's new video series, Romper's Doula Diaries:
Watch full episodes of Romper's Doula Diaries on Facebook Watch.