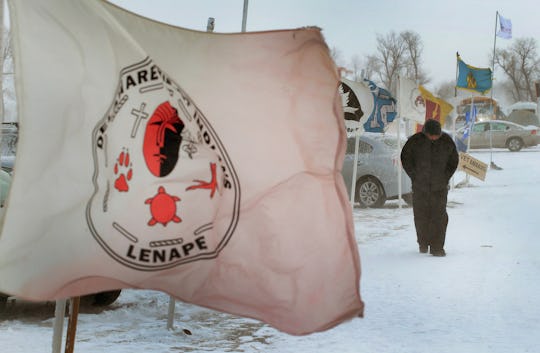 Scott Olson/Getty Images News/Getty Images
Heads Up: The Dakota Access Pipeline Is Back On
A recent decision by the U.S. Army Corps of Engineers appears to have finalized the status of the Dakota Access Pipeline (DAPL) once and for all. So is DAPL construction starting up again? According to Reuters, a Tuesday court filing will allow the completion of the project, tunneling under controversial, contested water. What's more, Deputy Secretary of the Army Paul D. Cramer shared that DAPL sponsor Energy Transfer Partners (ETP) would received the easement by Wednesday afternoon.
North Dakota Sen. John Hoeven elaborated on the news in a statement on Tuesday afternoon:
Today, the Army Corps of Engineers announced that it has finished its review of the Dakota Access Pipeline project and intends to grant an easement no earlier than tomorrow afternoon. The easement will enable the company to complete the project.
This decision may come as a shock, but it wasn't made at random — one of President Donald Trump's recent executive actions hastened the pipeline's completion. Seeing as the memo "directs agencies to expedite reviews and approvals for the remaining portions of this pipeline," according to Press Secretary Sean Spicer, one could have seen this coming, though the instantaneous nature of the action is definitely jarring.
What's more, previous plans to create an environmental impact statement (EIS) assessing the project's implications on its surroundings have now been completely obliterated, according to the Corps, so no additional environmental review will take place before the pipeline's expected completion.
In its proposed form, the DAPL is set to disrupt sacred Native American lands while also disturbing a "primary source of drinking water" for the local Standing Rock Sioux Tribe. Finding fault with this, DAPL protests and demonstrations have erupted, both nationally and at the site itself.
Previously, it was decided that the Corps would refuse completion of the pipeline through native lands and instead look for alternative routes for the project, according to U.S. Assistant Secretary of the Army Jo-Ellen Darcy. Instead, it now appears that the final mile and a half of a 1,700-plus mile pipeline has been given the go-ahead. Once approved, ETP told Reuters that the pipeline would be completed within 90 days.
But this reportedly isn't the end of the tribe's fight. Jan Hasselman, an attorney with Earthjustice working on behalf of the Standing Rock Sioux, insisted:
The Obama administration correctly found that the Tribe's treaty rights needed to be respected, and that the easement should not be granted without further review and consideration of alternative crossing locations. Trump's reversal of that decision continues a historic pattern of broken promises to Indian Tribes and violation of Treaty rights. They will be held accountable in court.
In the coming days, look for even more pushback against this most recent DAPL decision.