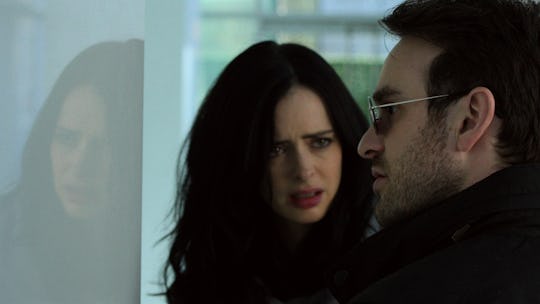 Netflix
Will This Marvel Character Make A Surprise Cameo In 'Jessica Jones' Season 2?
One of the reasons people love the Marvel Netflix series is due to the crossovers that often occur between the shows. Luke Cage first showed up in Jessica Jones; Jeri Hogarth also first appeared on Jessica Jones but has now popped up everywhere; and, of course, there was the ultimate crossover: The Defenders. With crossovers being a staple in the Marvel Netflix universe, it's not surprising that fans are wondering if Daredevil is in Jessica Jones Season 2. Unfortunately, it doesn't seem likely, but then again, the devil of Hell's Kitchen could make a surprise cameo at some point.
During The Defenders, everyone was led to believe Daredevil, AKA Matt Murdock, died when the Defenders took down the Hand. While fans of the show know that's not true and he's actually recuperating with nuns, his fellow vigilantes have no idea. Thus, if Matt suddenly showed up, Jessica would definitely be shocked. Plus, when we last saw Matt he was lying down in a bed just waking up, and he looked pretty worse for wear. It'll probably be a while before he's up and moving again, and unfortunately, it's not entirely clear how much time passed between the end of The Defenders and Jessica Jones Season 2.
Additionally, there's been no rumors or any kind of hint that Matt will be making a surprise appearance on Jessica Jones. Still, that would be something Marvel and Netflix would want to keep heavily under wraps, so that doesn't really mean too much. It's possible the series will do something similar to what they did at the end of The Defenders, with a short clip after the credits as is often done with the Marvel films. Perhaps fans will learn a little bit more about where Matt currently is and who the heck this Maggie person could be. (The person the nun mentioned at the end of The Defenders.)
Even though the chances of Jessica and Matt meeting up in Jessica Jones Season 2 are slim, many fans would certainly love to see it happen. The pair had great chemistry during The Defenders, and some have even started to ship the pair romantically, despite the fact that in the comics Jessica ends up marrying Luke.
Whether you like Jessica and Matt together as just friends or something more, people definitely enjoyed seeing them come together, just like many appreciated the friendship that developed between Danny Rand/Iron Fist and Luke. Matt wasn't put off by Jessica's sass, and even seemed to enjoy it, and Jessica, despite her best efforts, couldn't help but like working with Matt as well. The two made a great team and it'd be awesome to see them work together again. Besides, if Danny gets to cross over to Luke Cage, Matt should be able to join Jessica Jones. It's only fair.
Still, it just may be too soon for Matty to be making any kind of reappearance. But perhaps we'll get to see Jessica make her way over to Daredevil during it's third season. Sadly, that doesn't have a release date just yet and with Jessica Jones and Luke Cage both releasing their second seasons this year, it could be a long wait.
In the meantime, the new season of Jessica Jones is finally available for streaming, which means you'll find out one way or another if Matt really does make an appearance quite soon. Whether Matt's in it or not, it'll surely be another great season and you'll want to watch it ASAP before spoilers begin filtering out.
Jessica Jones Season 2 begins streaming on Netflix on Friday, March 9, so plan your binge watching accordingly
Check out Romper's new video series, Romper's Doula Diaries:
Watch full episodes of Romper's Doula Diaries on Facebook Watch.