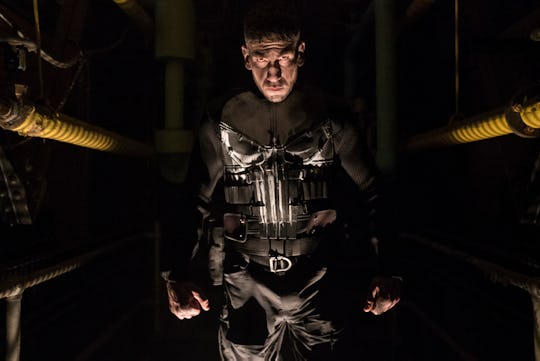 Jessica Miglio/Netflix
A 'Daredevil' Crossover Is Happening In 'The Punisher' — Just Not In The Way You Think
Ever since Frank Castle appeared on Daredevil Season 2, fans have been anxiously awaiting his very own series. Now the time has come. The Punisher has arrived on Netflix and fans are eager to dive into Frank's story. But will there be any crossover action to look forward to? Is Daredevil in The Punisher? It's possible he is, but even if he isn't, there's still a familiar face coming our way.
Karen Page, who went from client to assistant to quasi-girlfriend of Matt Murdock, Daredevil's daytime persona, is now assisting the Punisher. It was Karen who first befriended the anti-hero, so it shouldn't be all that surprising that she makes an appearance in his series. At San Diego Comic Con, Debroah Ann Woll, who plays Karen, revealed that "Frank has a soft spot in Karen's heart" and that they'll bond over the "dark histories" they both have. She also added that Karen could "potentially fully open up to" Frank on the show.
Could this mean Karen and Frank will actual have a romance as many fans have hoped for? It certainly seems like a possibility, but what about Matt? Well, after the events in The Defenders, Karen, along with pretty much everyone else, believes Matt to be dead. Therefore, it'd make sense that she was trying to move on. Plus, they weren't exactly together when Matt "died," so it's not like Karen has to be feel like she still owes Matt anything, though she could still be understandably grieving from the loss.
Although everyone thinks Matt is dead, the finale of The Defenders revealed that he's actually recovering att what looked like a nunnery, though it's unclear where that is. So the question of whether or not Matt will make a reappearance in The Punisher is a fair one. It's totally plausible he's actually recovering in the city somewhere. However, if Matt was to make an appearance in The Punisher, it'd be a pretty big deal, unless he went unseen. Thus, it seems doubtful this will happen.
For one, Matt's return to the city would take away from Frank's story, as the focus would shift to Matt, and that's not how crossover appearances are supposed to work. For example, every time Claire Temple appeared in another Marvel series, she was always there to help the hero, not start her own storyline. Matt making his big return to society after everyone believed he was dead seems like something that will definitely be saved for Daredevil Season 3.
However, Marvel may do another after credits scene like they did with The Defenders. In case you missed it, after the credits of the season finale of The Defenders, there was a quick snippet, giving a preview of what to expect in The Punisher. An after credits scene would be the perfect moment for Marvel to give a little update on how Matt's been recovering and what he's going to do next, now that everyone believes he's dead. It wouldn't distract from Frank's story and it'd be a nice teaser for viewers who are desperately awaiting answers.
If there's no appearance from Matt at all, you can bet he'll at least be mentioned. It's hard to say when exactly The Punisher takes place in terms of the Netflix Marvel timeline of events, but if it's not that much later after The Defenders, it would make sense that Karen was still grieving. More than that, what happened to Matt will certainly affect how she works with the Punisher.
Karen has now seen, or at least thinks she's seen, the worst possible thing that can happen when you're a vigilante. Even if she wants to help Frank, she'll definitely be worried about him and the trouble he's getting himself into. Still, it's doubtful her reservations will stop her from working with Frank, especially because he's looking into a government conspiracy and Karen has always wanted to get to the truth, no matter the risk.
Check out Romper's new video series, Romper's Doula Diaries:
Watch full episodes of Romper's Doula Diaries on Facebook Watch.