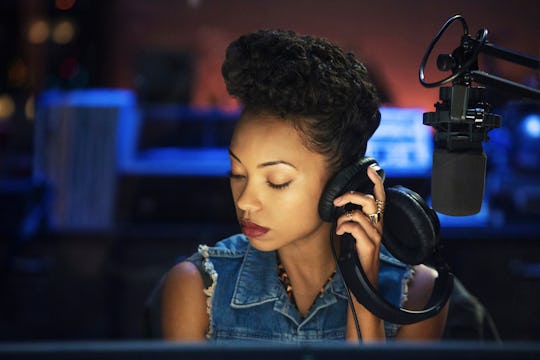 Adam Rose/Netflix
Netflix's 'Dear White People' Takes Inspiration From Real Life
Netflix's new series Dear White People has cinematic inspiration: it's an adaptation of Justin Simien's 2014 film of the same name that revisits many of the same characters and themes, but with (mostly) new actors and new context. The film explored the experiences of several black students at the fictional Ivy League college Winchester University as they dealt with aggressions both micro and macro from their white classmates, with the racial tensions on campus culminating in a racist frat party where the theme was blackface. The Netflix series expands on those plotlines, but is Dear White People based on a true story?
While the characters and setting are fictional, the series tackles a lot of very real topics and issues. Much of the initial inspiration came from director Justin Simien's life, particularly his experiences at the mostly-white Chapman University, though he has said that Winchester is meant to represent society as a whole more than any specific college. Following the film's release, Simien described it to The Orange County Register as exploring "the black experience when you are in a non-black world," which was something he dealt with at Chapman. "I encountered people who had presumptions about me, about race," he said. "It made me uncomfortable."
Much of the development of the film was also influenced by real life. The radio show in the film and series that lends Dear White People its name came from a Twitter account Simien had. The account's creation was partly motivated by his desire to get feedback as he worked on the film's script, but was also a way for him to vent just like protagonist Sam White does on the radio. It gave him a place to test out Sam's voice, but was also "meant to articulate the sometimes funny, mostly harmless, but occasionally painful experience of being a Black face in a vastly white place (i.e. most Hollywood work environments)," as Simien wrote in an article for The Huffington Post in 2012.
The racism in both the film and series is obviously very real as well. Though the blackface party at Winchester wasn't taken from an incident in Simien's life, there are many real life cases of racist college parties that are often dismissed and not taken as seriously as they should be. The original film even ended with pictures of similar parties from plenty of real universities.
Dear White People might not be based on a true story, but there's still a lot of truth to it.