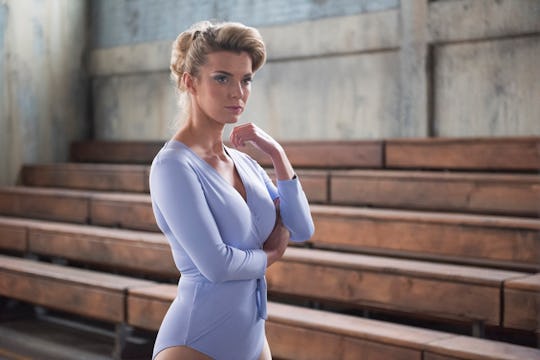 Erica Parise/Netflix
Debbie From 'GLOW' Comes From Both Fiction & Fact
Orange Is the New Black creator Jenji Kohan is executive producing another comedy for Netflix called GLOW, created by showrunners Liz Flahive and Carly Mensch. Flahive and Mensch both worked together on Nurse Jackie, which lends one of its stars, Betty Gilpin, to GLOW in the role of Debbie Eagan. (Mensch had also worked with Kohan on both OITNB and Weeds.) GLOW tells the origin story of a wildly popular, real-life 1980s wrestling TV show of the same name. So is Debbie Eagan from GLOW based on a real person? While the premise of the show is based on a real series that used to air, the Netflix version's behind-the-scenes storylines are entirely fictionalized.
GLOW stood for Gorgeous Ladies of Wrestling, and it was a women's wrestling promotion founded in 1985. It was comprised mostly of actresses, models, dancers, and stunt women trying to break into Hollywood, who were cast and trained as wrestling characters. In 1986, GLOW began airing and the original iteration ran for four seasons. Each season was comprised of 26 episodes, featuring around eight matches apiece mixed with comedy sketches and other bits from the characters. They taped at the Riviera Hotel on the Las Vegas Strip.
On Netflix's GLOW, we see the fictionalized making of the real 1980s show, starring Alison Brie as Ruth Wilder, a struggling actress who just wants to play a strong, meaty female role — no easy task in 1985. Gilpin plays Debbie Eagan, her one-time friend turned arch nemesis (largely due to the fact that she's a successful soap star while Ruth continues to be out of work). But they both get cast in GLOW, along with an ensemble of other off-beat women who can't break into conventional Hollywood because they don't fit the molds provided to them. Marc Maron plays Sam Sylvia, the director behind the project who has to convince a bunch of skeptical, potentially inexperienced actresses that learning wrestling stunts is a good idea.
The ensemble cast supporting Brie and Gilpin is just as diverse as the women of Kohan's flagship Netflix show OITNB, but, because GLOW is a period piece set in the '80s, we watch them struggle with being forced to play wrestling characters stereotyped after their race, size, and physical appearance. Ultimately, the story is about how they leverage their stereotypes and subvert expectations to portray powerful, heroic, ass-kicking women.
GLOW has the potential to soothe your OITNB Season 5 withdrawal, dropping its first 10-episodes on Netflix just two weeks later on June 23.