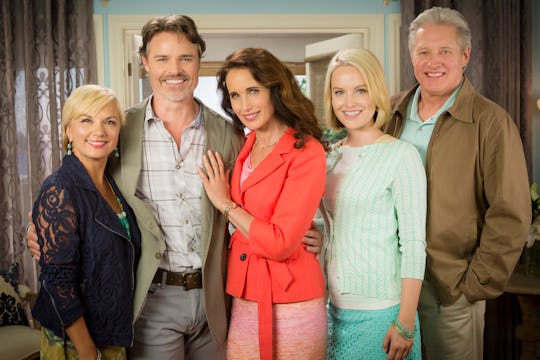 Crown Media Family Networks
'Debbie Macomber's Cedar Cove' Is Based On A Juicy Novel Series
Fans of both Hallmark series and romance novels are about to be very happy. Debbie Macomber's Cedar Cove is coming to Crown Media's subscription package, Hallmark Movies Now. Old and new viewers may be wondering, is Debbie Macomber's Cedar Cove based on a true story? No, but it is based on a beloved book series by Debbie Macomber.
Cedar Cove is a fictional community, but it's still rooted in reality. Cedar Cove is based on where Macomber lives: Port Orchard, Washington. According to a press release, the novels are also inspired by Macomber's own life, friends, and family. But she doesn't only right about this small town. In an interview about the Hallmark series based on Cedar Cove, Macomber explained the choice to write about a place like home, "I did six books set in Texas, six books set in Alaska, four books in North Dakota. I'm traveling all over doing this research and I thought, 'Hey, why not do my home town?'"
But there isn't much detail about how much is based off real life. The Cedar Cove series kicked off with the publication of 16 Lighthouse Road in 2001. The first novel focuses on court judge Olivia Lockhart and how she handles the divorce (or desired divorce) of Cecilia and Ian Randall. After hearing the Randalls' case — they signed a prenuptial agreement stating their marriage would last forever but want it rescinded after the death of their infant daughter — she denies the rescinding the agreement because she believes they're still in love.
I know, I know — if I wanted a divorce, I wouldn't want Olivia Lockhart to stand in my way! Regardless, she does. This is all while drama happens in Olivia's life as well, such as her daughter deciding whether to marry a man she doesn't love. Macomber readers were probably delighted when Cedar Cove was developed into a series for Hallmark in 2013, starring Andie MacDowell as Olivia.
In an interview with Reel Life With Jane, MacDowell actually said she almost turned down the Cedar Cove role. "I read the script about a small town and an incredibly intelligent woman who helps people, and she's bright, and interesting, and the town was lovely," she said, "But shooting was supposed to start that November, and it was a huge sacrifice for me because my youngest daughter, Margaret, was entering her last year of high school. I wanted to have that last year with her."
It was her daughter Margaret and her other daughter Rainey, though, who encouraged her to join the production. MacDowell said:
They came to me the next day and said, 'You're doing this, you have to do this, this was written for you.' They know my spirit. I just like sweet things in life. I like the countryside, I want life to be sweet, because the world's crazy. And I cling to the thought that we can have sweetness within this chaos. And so I said yes, because they told me to.
The series ended up running for three seasons, but unfortunately Cedar Cove was canceled before Season 4 in 2015. Now, the series will get a second life now that it will be available on Hallmark Movies Now throughout the month of September. Fans of the Hallmark Channel, Debbie Macomber, and/or Andie MacDowell will jump at the chance to watch this series again.