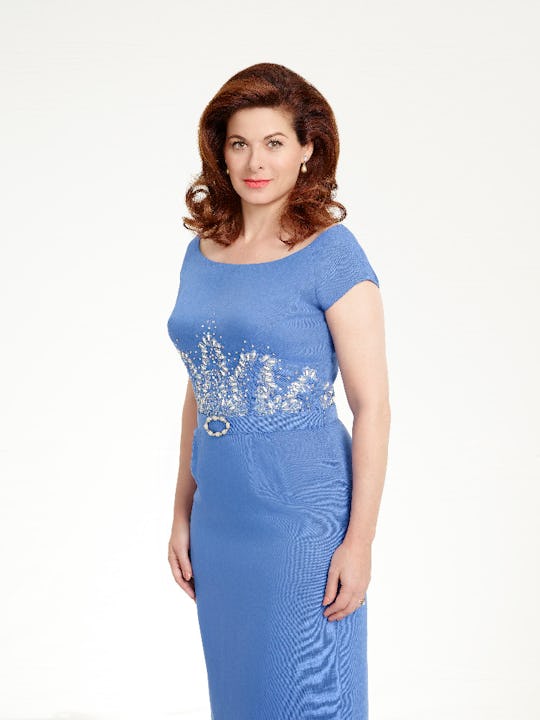 Craig Sjodin/ABC
Debra Messing's Singing Abilities Are Tested On 'Dirty Dancing'
ABC's remake of the 1987 classic Dirty Dancing (starring Jennifer Grey and Patrick Swayze in the lead roles) is different from the original in one major way. While the 1960s-set romantic drama had an extensive (and incredibly popular) soundtrack — featuring a mix of '60s and '80s tunes as well as original songs written for the movie — it wasn't a movie musical. The actors were dancing, but not singing. ABC's version, on the other hand, embeds the popular music from the movie within the story itself. So is Debra Messing really singing on Dirty Dancing?
Messing plays Marjorie Houseman, the mother of main character Frances "Baby" Houseman (played by Abigail Breslin in the remake). Marjorie was played by Gilmore Girls' Kelly Bishop in the 1987 film and didn't have a particularly large role in the original story. In the remake, which is significantly longer than the original at a three-hour runtime, Marjorie plays a larger part and even gets a song of her own to sing (according to the Dirty Dancing soundtrack released on May 19). Marjorie sings "They Can't Take That Away," which is later reprised by Bruce Greenwood, who plays her husband Dr. Jake Houseman.
Messing is listed as the artist for that song on the soundtrack, so yes, she is really singing in the movie (though it's pre-recorded and not a live musical like Grease: Live). ABC has even released a few of the songs from the soundtrack on YouTube and VEVO, so you can listen to Messing's solo in its entirety before the remake even premieres.
In an interview with Haute Living, Messing discussed her singing and dancing background and how she prepared for the role. Messing, who revealed that her mother was also a singer during her teen years, explained that her version of Marjorie has "a greater part than in the original movie," much of which expands upon the Housemans' troubled and tense marriage. Messing called her solo performance "terrifying and liberating," though she said she took singing "very serious and loved it" when she was a grad student at NYU, considering her return to singing in the movie a "personal dare."
In the same interview, Messing explained that everyone did most of the singing prior to production, in studio, and then lip-synched to the pre-recorded songs while filming. As for the dancing, Messing revealed that she'd also been a dancer when she was younger, but training for the Dirty Dancing routines (including learning the tango) was an entire job in and of itself.
Messing is obviously a multi-talented performer, so it'll be interesting to see what she makes of Marjorie's new, expanded role in the remake.