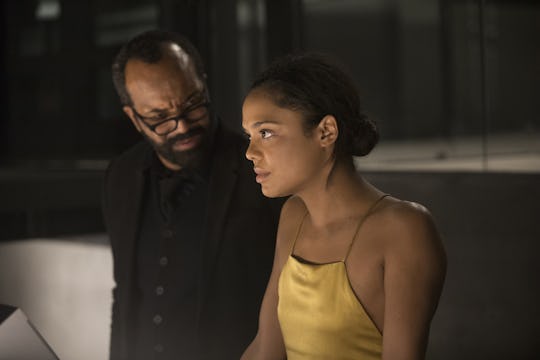 John P. Johnson/HBO
7 Things That Suggest Delos Is Controlling Bernard On 'Westworld'
If you've been watching Westworld, by now you should know that things aren't always as simple as they look. When you're seeing the world through robot eyes, with no concept of time, it can get tricky to put things together. This season started out with Bernard (Jeffrey Wright) waking up on a beach, just in time to talk to the Delos rescue team that has come down. While it may seem like he is in control, some fans believe he is being played by the corporation. Is Delos controlling Bernard? There are a lot of little clues that point to this potential twist.
When Bernard wakes up on the beach, there is something seemingly off about him. He looks disoriented and confused, but begins being hounded by questions from the Delos team. Sure, it's understandable that they would want to know what exactly happened after the infamous party in which Robert Ford (Anthony Hopkins) introduced a new narrative, programming Dolores (Evan Rachel Wood) to kill him and getting the hosts to rebel.
It's important to remember that Ford (the mastermind who created the hosts) and Delos (the company now running the park) didn't agree on how the park should be run, and on the night of the party, Charlotte (Tessa Thompson) had asked Ford to step down after announcing the new narrative. Obviously, Ford chose a scorched earth narrative, but it could be likely that he had hidden some secrets within the hosts -- ones that Delos is now trying to acquire.
Many Reddit fan theories, and this amazing compilation from YouTuber, HaxDogma, point out that there are tons of subtle inconsistencies in the first episode that make it look like Bernard may be in a simulated loop created by Delos to extract information. Here is a breakdown of why and how it looks like Delos is really controlling Bernard in the present timeline: