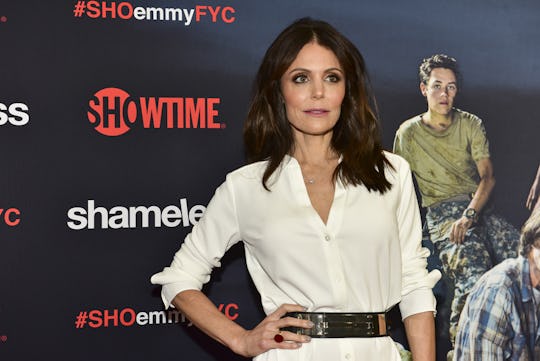 Rodin Eckenroth/Getty Images Entertainment/Getty Images
Bethenny's 'RHONY' Ex Hasn't Been Seen Out Since Her Split
Throughout Season 10 of Real Housewives of New York, we've seen the off-again phases of Bethenny Frankel's on-again-off-again relationship with Dennis Shields. The pair have known each other for 30 years, but as of August 2017, they've officially been broken up. So fans of the show may be wondering: is Dennis Shields dating anyone now? The archives of Page Six have been suspiciously quiet since his split with Bethenny.
Though boyfriends of the Housewives typically get their own little satellite orbit of fame — especially following a breakup — no one seems to be reporting any sightings of Shields and a new girlfriend. It could be because he's legitimately single, or it could be that no one's talking about him very much. To her credit, Bethenny did a good job keeping their relationship relatively separate from the show. Dennis only made a couple of appearances and she went out of her way not to mention him by name in interviews when talking about her love life. By comparison, boyfriends like John Mahdessian and Adam Kenworthy have gotten a ton of screen time over the years and tend to hold media attention when they go out with other women.
There haven't been any reports of a new lady in Dennis' life, but Bethenny has been pretty open about how their relationship shifted back into friendship (although, again, without naming any names). For now, the pair are pretty entwined in each other's lives, since their families are close. Back in May, Bethenny told Steve Harvey, per People:
We're trying to really kind of be good partners and be good teammates and I think relationships oddly are — and this sounds cold — but a little bit like business. If both people aren't happy about it but slightly uncomfortable and giving up something or giving in [to] something, it doesn't work. So both partners have to say, 'All right, I'm in it for this.' And I think we might be at that point, believe it or not. I haven't said that to anyone yet.
Whether or not it sounds "cold" to think of relationships as a business, it's at least nice to see that Bethenny found someone who could think of their relationship in the way that she needed him to.
Later on in the interview, Bethenny did reveal that she was still interested in finding someone to settle down with:
I am dating and I'm looking for a partner. Like a real partner. Someone who's not intimidated by all that comes with me, which is really a challenging thing. Years ago, Andy Cohen said to me, 'Bethenny, we're quickly pricing ourselves out of the market.' So I recognize it's not that easy to meet the right partner, but it's like real estate: I'm not willing to settle. It has to be great, or I'm not doing it.
Acknowledging that her dating pool would be smaller given her very specific idea of what she wanted, Bethenny clearly still has hope that love is possible.