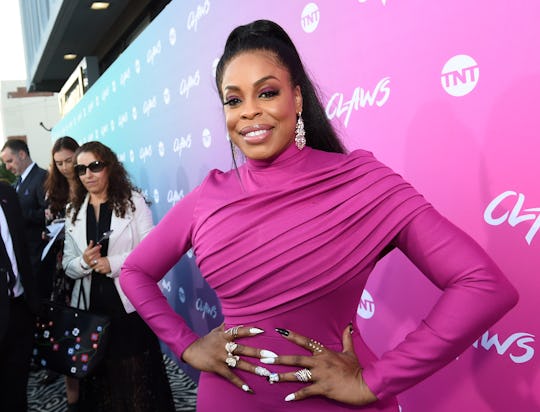 Emma McIntyre/Getty Images Entertainment/Getty Images
Desna On 'Claws' Is A Force To Be Reckoned With
TNT's new dramedy, Claws, is centered around a fictional nail salon in South Florida, run by a woman named Desna (played by Niecy Nash) and her staff. Based on the trailer, it's clear Desna has a big personality and does things her way, whether other people like it or not. With a character this headstrong, one has to wonder if Desna on Claws is based on a real person. It turns out, she kind of is.
Creator Eliot Laurence told Bradenton Herald Claws was inspired by his aunt Victoria Hall, who died last year. "She taught me everything I know about humor," he said about his aunt, who he also dedicated the show to. "Vicky loved getting her nails done, and she would love this show." While Desna isn't exactly based on Laurence's aunt — who actually hailed from New York — their shared love of nails is intentional and is the basis for the show.
Along with Desna, her staff includes her best friend Jennifer (Jenn Lyon), who is struggling with her sobriety and attempting to raise two kids from previous relationships; Quiet Ann (Judy Reyes), who acts as Desna's driver and security for the salon; Polly (Carrie Preston), a preppy woman who just got out of jail for identity theft; and Virginia (Karrueche Tran), who makes it clear she'd rather be anywhere than at work. (I mean, same, right?)
At the start of the show, Desna's nail salon is used by a gangster named Roller (Jack Kesy) to launder money from his illegal pain clinic where he sells drugs. Desna wants out of the money laundering game and to get a bigger and better salon. She also wants to have the means to take care of her mentally ill twin brother Dean (Harold Perrineau), who lives with her. Of course, it won't be easy for Desna and the rest of her staff to get out from under the thumb of Roller and his crew. But that's not going to stop them from trying.
Claws, which is being referred to as the new Breaking Bad in a nail salon, premieres on TNT on Sunday, June 11 at 9 p.m. ET. However, there'll be an encore presentation of the premiere streaming on Twitter right afterward at 10 p.m. ET. Fans can see the stream simply be going to the show's Twitter handle, @ClawsTNT.
According to TNT, this is the first time Twitter is streaming a basic cable drama and it'll be interesting to see how this plays out. You won't want to miss it.