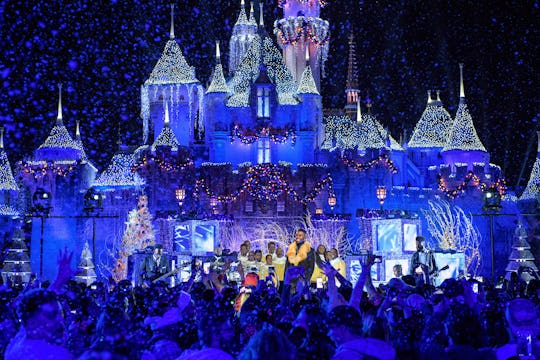 Handout/Getty Images Entertainment/Getty Images
Is Disneyland Affected By The California Wildfires? Here's What You Need To Know
As fires continue to rage throughout California, many are wondering if their favorite destinations remain in danger. And for those preparing to soon travel to California theme parks, the question are more urgent as travel could be adversely affected due to road closures, damage, and even air quality. One of Southern California's biggest draws, especially during the holiday season, is the Disneyland Resort in Anaheim. Is Disneyland affected by the California wildfires? Officials say no, but it's still good to take precautions so that you're prepared if you need to be.
Disneyland is open and ready for business, a park employee tells Romper. They have just one suggestion. Log on to AirNow.gov, select Anaheim as your destination, and check the air quality in advance of your visit.
There are several air quality markers from good to very hazardous. As of publishing, the air quality in and around Anaheim is good. That being said, it's currently near the higher-end of the category, meaning if the air quality gets much worse, the overall ranking will move from good to moderate, unhealthy for sensitive groups, or worse.
With any situation, common sense is best. If you feel you could be affected by smoke or pollutants in the air , you can use a disposable mask like the ones that are being handed out in Sacramento to protect residents from smoke and particulate-filled air, according to the Sacramento Bee.
Irritated eyes, nose, and throat, difficulty breathing, asthma symptoms that are worse than normal, and other challenging respiratory conditions are all symptoms of prolonged exposure to air pollution, according to Spare the Air. If you experience these symptoms, head indoors, rest, and drink plenty of water to give yourself a break and help you recover.
To give things some perspective, Disneyland is located in the heart of Southern California. There are three main fires currently burning in the state — the Woosley Fire in Malibu, the Camp Fire near Chico, and the Hill Fire in Ventura County, according to the New York Times. The closest fire to Disneyland is the Woosley Fire and that is about 65 miles, or just over two hours away by car, and is burning north of the park.
And for those that are unfamiliar with Southern California, Disneyland is not to be confused with Disney Studios. While the Park is unaffected, the Woosley Fire is burning dangerously to the studios, located in Burbank.
Social media remains an excellent source for connecting with other Disney fans to learn of current conditions and more. Many park goers are taking to Twitter to share images and info.
However, official information about park closures and alerts can be found online or through calling Disneyland's customer service hotline.
Many of the active fires in California remain less than 50 percent contained, which means that air quality will continue to fluctuate based on weather and wind speed. The best bet it to call your destination before heading out to ensure your trip will be happy and healthy.