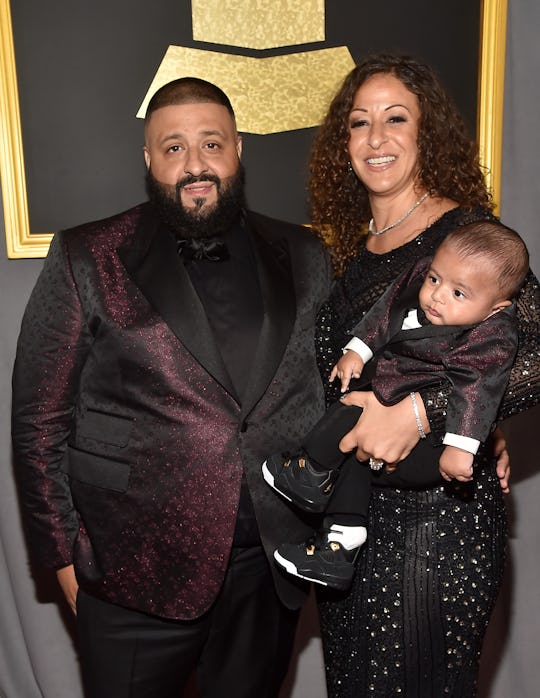 Alberto E. Rodriguez/Getty Images Entertainment/Getty Images
DJ Khaled & Asahd Will Def Be Attending The Grammys Together, So Get Excited
The only Khaled as famous as Khaled Hadj Ibrahim (aka DJ Khaled) himself is Asahd Tuck Khaled, the DJ's ridiculously adorable son. The little dude tagged along with his dad to the 2017 Grammy Awards rocking a matching tux, bow tie, and sneakers. And now fans are wondering if Khaled is bringing his son to the 2018 Grammys. One can only hope, and signs point to yes.
DJ Khaled and his longtime partner Nicole Tuck attended the 59th Annual Grammy Awards with Asahd, who was just three months old at the time, according to People. No one was surprised to see him waltz in (and by that I mean, be carried in) looking just as fly as his father. Before he was born, Khaled talked a lot about how excited he was to be a dad and how he'd already gone sneaker shopping for his soon-to-be son, People reported.
Khaled posted an Instagram photo with his son, who he also tagged (yes, the kid's got his own Insta with 1.8 million followers already...), from the night, and fans couldn't get enough. "Most handsome pair at the awards!" one wrote. Another said, "Omg!! Too cute😍like father, like son. You are truly Blessed.🙌🏾🙌🏾"
This year, Billboard reported that DJ Khaled will be performing at the Grammys. And the people want Asahd, too.
In addition to Khaled, Rihanna and Bryson Tiller have also been announced as performers at the 60th Annual Grammy Awards, according to Billboard. Together they're expected to perform the single "Wild Thoughts," which came out over the summer and quickly became one of the season's most played songs. Cardi B, Bruno Mars, Kesha, SZA, Luis Fonsi, and Daddy Yankee are also reportedly performing at the ceremony, according to Billboard.
Last December, Khaled reportedly told People that he always tries to make time for his son, so fans are expecting that he brings his son along this year, too. I'm personally hoping that he comes along in another matching outfit...
"There's nothing hard about it — every moment I get a chance to be with my son is such an amazing moment," he reportedly told People.
Asahd shared a photo on his Instagram page (definitely all by himself), assuring people that he is indeed coming to the Grammys. Oh, and he also has his own verified Twitter account because, of course, where he also let his casual 46,000 followers know Thursday afternoon that he's coming to New York City for the show. He tweeted (again, surely all by himself), "I'm coming NYC!!! #grammys2018."
Quick side note because the curiosity was killing me: Asahd only follows eight people himself, who include Nicki Minaj, Rihanna, Lil Wayne, Diddy, Drizzy, Liz Hagelthorn, the We The Best Music account, and his dad. Solid picks but, anyway, I digress...
The 2018 Grammys will be held at New York City's Madison Square Garden on Jan. 28, according to the Grammys website. That means it'll be the first Grammy telecast in the Big Apple since 2003 — it's been broadcast from the Staples Center in Los Angeles for the last 14 years. It'll still be shown live on CBS, per usual, from 7:30 p.m. to 11 p.m. Eastern Time and 4:30 p.m. to 8 p.m. Pacific Time.
In the meantime, any guesses as to what Asahd will be wearing? Actually, as curious as I am, we should stop questioning stars so much on their outfits and start asking them more about their work. Asahd is the executive producer of his dad's new album GRATEFUL, after all.
"He's in the studio listening to songs with me going over the business part of it, [seeing if] the vocals are right, if the beats are right, if the energy's right, everything he's a part of," Khaled told Jimmy Kimmel during a recent Jimmy Kimmel Live interview.
Heck, I'm waiting for him to get up on stage and add "back-up performer" to his list of duties.
Check out Romper's new video series, Romper's Doula Diaries:
Watch full episodes of Romper's Doula Diaries on Facebook Watch.