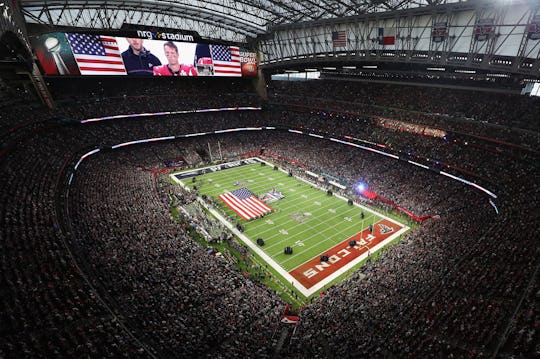 Tom Pennington/Getty Images Sport/Getty Images
Is Donald Trump At Super Bowl 51?
Earlier this week President Donald Trump threw in his prediction for the outcome of this year's Super Bowl, so we all know he is rooting for the New England Patriots. That's no surprise as he is reportedly friends with the team's owner Robert Kraft, head coach Bill Belichick, and quarterback Tom Brady. But, is Trump actually at Super Bowl 51 to watch the game unfold in person? He wouldn't be the only one from the White House to attend the big game. Vice President Mike Pence, fourth sitting vice president to attend a Super Bowl, is there, and former President George H.W. Bush was reportedly "fired up" for the coin toss in Houston.
Before the Super Bowl it did not look like Trump was going to make it to the Lone Star State for the showdown between the Patriots and the Atlanta Falcons. We found him where we usually can: On Twitter. "Enjoy the #SuperBowl and then we continue: MAKE AMERICA GREAT AGAIN!" the president tweeted about an hour before the game started.
Instead, it looks like the president attended a rather quiet Super Bowl party at the Trump International Golf Club in Palm Beach, Florida. On Sunday night, Bloomberg political reporter Jennifer Epstein posted a photo on Twitter of Trump and First Lady Melania Trump having dinner with White House Chief of Staff Reince Preibus and his family.
But, Trump reportedly left his own viewing party at his Florida golf club during the third quarter when the Patriots, his pick to win, were not down in the game. According to Sports Illustrated, he left the party "just minutes after the Falcons pushed their lead to 28–3," and returned to his seaside home for the night.
TIME White House correspondent Zeke Miller wrote on Twitter at about 9 p.m. that Trump was "done for the night at Mar a Lago."
Perhaps Trump didn't want to see his prediction fail him with tons of press and cameras around him. Considering that he once bragged in a tweet that he's usually right about these kinds of things because he had gotten the last seven results right, it's probably a safe guess. "I picked seven Super Bowl winners in a row & would have been right last night had the refs thrown the flag," he tweeted in 2013.
It's not clear why Trump left his viewing party before the game finished, but it looks like the president might need need to work on his prediction system before Super Bowl 52.