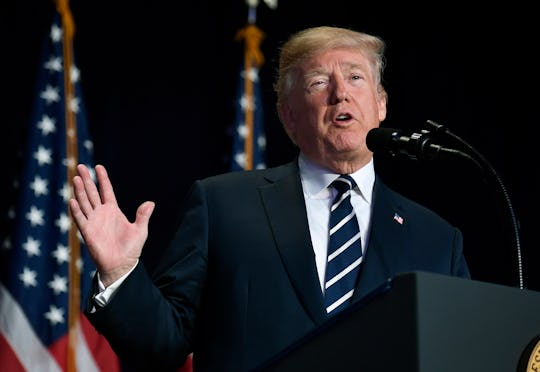 Pool/Getty Images News/Getty Images
Is Donald Trump At The Opening Ceremony? Mike Pence Is Representing
On Wednesday, President Trump took to Twitter to congratulate South Korea ahead of the 2018 PyeongChang Winter Olympics, but if anyone was expecting the POTUS to cheer on the athletes in person, they probably shouldn't have held their breath. For anyone wondering if Donald Trump is at the opening ceremony, well, he didn't give any indication ahead of time that he'd be there, despite his prediction that the games would be "MAGNIFICENT," according to USA Today. Instead, Vice President Mike Pence is in South Korea representing the administration.
As part of his Olympic duties, Pence met with South Korean President Moon Jai-in Thursday, according to The New York Post, and during that time, he took the opportunity to advance Trump's anti-North Korea message. In response to North Korea's participation in the games — along with, presumably, the fact that the sister of North Korean leader Kim Jong Un is also attending as a state representative — Pence criticized North Korea for "[hiding] behind the Olympic banner the reality that they enslave their people and threaten the wider region," according to USA Today. Yet as much as Pence was unhappy with North Korea's involvement in the games, there were a number of athletes who were unhappy with Pence's involvement — and they weren't afraid to make that very clear.
Figure skater Adam Rippon is making history for being the first openly-gay man to compete on Team USA, and in a January interview with USA Today Sports, he voiced his frustration about Pence's scheduled appearance at the games. When asked about the fact that Pence would be leading the delegation at the opening ceremony, Rippon said, "You mean Mike Pence, the same Mike Pence that funded gay conversion therapy? I'm not buying it."
But that's not all he had to say. Although it would be customary for the athletes to meet with Pence ahead of the opening ceremony, Rippon said he'd rather pass, according to USA Today Sports:
If it were before my event, I would absolutely not go out of my way to meet somebody who I felt has gone out of their way to not only show that they aren't a friend of a gay person but that they think that they're sick. I wouldn't go out of my way to meet somebody like that.
Rippon also criticized the vice president for his support of Trump and his policies. He said, according to USA Today Sports:
I don't think he has a real concept of reality. To stand by some of the things that Donald Trump has said and for Mike Pence to say he's a devout Christian man is completely contradictory. If he's okay with what's being said about people and Americans and foreigners and about different countries that are being called 'shitholes,' I think he should really go to church.
Skier Gus Kenworthy — who has also come out as gay — had a similar view of Pence's involvement in the Olympics, according to Billboard. In an interview on The Ellen DeGeneres Show Monday, he said,
To have someone leading the delegation that's directly attacked the LGBT community … it just seems like a bad fit. I feel like the Olympics is all about inclusion and people coming together, and it seems like it's not really doing that.
On Thursday, Pence tweeted Rippon, seemingly in an attempt to smooth things over. In addition to expressing his support for the gay athlete, Pence urged Rippon to not "let fake news distract [him]."
Rippon didn't appear to respond to the tweet, but it's probably safe to assume that he wasn't particularly convinced of the vice president's sincerity. Then again, given Rippon's stance, it doesn't seem likely that he would have been please with any members of the Trump administration coming in Pence's place. Even — or perhaps especially — the president.
Check out Romper's new video series, Romper's Doula Diaries:
Watch full episodes of Romper's Doula Diaries on Facebook Watch.