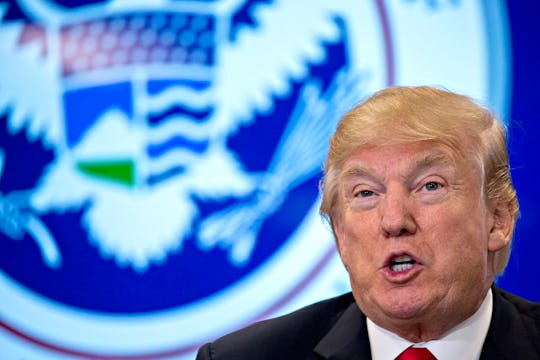 Pool/Getty Images News/Getty Images
Is Donald Trump Going To The 2018 Winter Olympics? Here's What You Need To Know
The Olympics are generally a time during which all Americans can put aside their political differences and come together over the one thing that unites us all — a shared sense of "how the hell can bodies do that??" But this year, many people might be wondering whether President Donald Trump will attend the 2018 Winter Olympics. See, the upcoming games are inherently much more complicated than normal, given that they're taking place in PyeongChang, South Korea, and Trump has been extremely vocal about his contentious relationship with North Korea.
So far, it seems that Trump has not stated definitively whether or not he will attend the games. Past presidents have been regular guests at various Olympic events. Just look at all these old photos of various Bushes, Clintons, and Reagans cheering their hearts out. President Barack Obama did not attend the Olympics while he was in office, but he did send an official presidential delegation to lend support at the games. So it certainly wouldn't be unprecedented if Trump didn't attend, just a little unusual. The White House did not immediately respond to Romper's request for comment.
While it's still unclear whether or not Trump will go cheer on the American athletes, one important member of the administration will definitely be attending. Vice President Mike Pence will make the trip to South Korea, and bring a very political guest.
CNN reported that Pence's guest at the games will be Fred Warmbier, whose son, Otto Warmbier, was arrested in North Korea while visiting the country as a tourist. Otto was sentenced to hard labor and imprisoned for 17 months before the United States managed to evacuate him. At the time, he was in a persistent vegetative state, and he died mere days later. An official told ABC News that Pence wanted to bring Warmbier as his guest for a very particular reason, saying:
As you saw in the State of the Union, the president laid out what happened to Otto and the vice president will be there with Mr. Warmbier at the Opening Ceremonies to remind the world of atrocities that happened in North Korea.
South Korea is touting this year's games as a "Peace Olympics," and North Korea and South Korea plan to march under a unified flag, and to field a joint team in women's ice hockey, according to TIME.
But when it comes to America's relationship with North Korea, things are less peaceful than they've ever been before. Trump has been causing widespread fear by tweeting what many interpret to be threats at North Korean leader Kim Jong Un, who has previously called Trump "a mentally deranged dotard." In early January, Trump tweeted:
North Korean Leader Kim Jong Un just stated that the "Nuclear Button is on his desk at all times." Will someone from his depleted and food starved regime please inform him that I too have a Nuclear Button, but it is a much bigger & more powerful one than his, and my Button works!
As North Korea has been developing its nuclear capabilities and launching ever-more-advanced test missiles, many worry that the escalation of threats and insults between the two unpredictable leaders could lead to actual, terrifying nuclear war. In his latest scary, off-the-cuff comment, Trump told reporters that he thought the Olympics would go very nicely, but, "After that, who knows?" So perhaps it's best if Trump stays as far away from the Olympics, and from North Korea, as possible.
The Winter Olympics are supposed to be a time for people to relax and watch some beautiful figure skating. This year, however, everyone is bound to be a little distracted, whether or not the president is in attendance.
Check out Romper's new video series, Romper's Doula Diaries:
Watch full episodes of Romper's Doula Diaries on Facebook Watch.