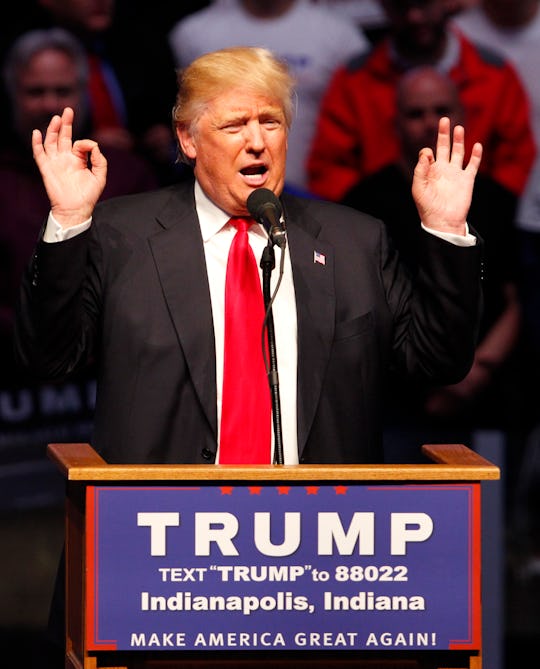 John Sommers II/Getty Images News/Getty Images
Is Donald Trump Going To The White House Correspondents' Dinner? He'll Be Absent
Donald Trump has been hot on the campaign trail recently, and doesn't seem like he is anywhere close to stopping. As we come to the final two months of the primary election, Donald Trump's race to snag the Republican primary nomination is more critical than ever. From appearances all over the nation, from coast to coast and the midwest in between, Donald Trump seems like he is everywhere. But is Donald Trump going to the White House Correspondents' Dinner?
As it turns out, Donald Trump will be skipping out on the hot ticket event this year. According to The Daily Mail, the Donald will not be attending the dinner this year — which is also President Obama's last White House Correspondents' Dinner.
Donald Trump has attended two Correspondent's dinners in the past — once in 2011 and more recently in 2015. However, he will be absent from this years. However, two of his top supporters and surrogates will be attending — Scottie Nell Hughes and Trump campaign spokeswoman Katrina Pierson. There is no word on where Donald Trump will be during the time of the dinner.
There are, however, some very interesting people that will be attending the dinner instead.
Variety reports that there will be an interesting mix of guests attending the White House Correspondents dinner this year — mixing your favorite Hollywood celebrities in with your favorite CNN correspondents and Senators.
Celebrities like Will Smith and Jada Pinkett Smith will be attending, in addition to Morgan Freeman, Kerry Washington, and my personal favorites, Abbi Jacobson and Ilana Glazer from Broad City, among other huge names.
There are some pretty interesting celebrity guests on the list as well. Kendall Jenner will be attending as well as JC Chasez from 'NSync (the one that wasn't Justin) and Bill Nye the Science Guy.
Bernie Sanders, Megyn Kelly and Ariana Huffington are among those who will round out the Washington D.C. perspective. But Trump isn't the only candidate absent from attending — Hillary Clinton will not be attending the dinner as well.
Donald Trump has had an interesting history with the White House Correspondents' Dinner. In 2011, after the "birthing scandal" (remember that?) Obama poked fun at Donald Trump for demanding to see proof of Obama's birth certificate.
But just because Donald Trump won't be attending does not mean he is safe from jokes being made about him at the dinner. It is in tradition of the dinner that the president do a comedic monologue and Obama could definitely be making some jokes in Trump's direction.
While we may not see Donald Trump at the White House Correspondents' Dinner, his absence won't go unnoticed and his presence will definitely be in the room through some joke or another.