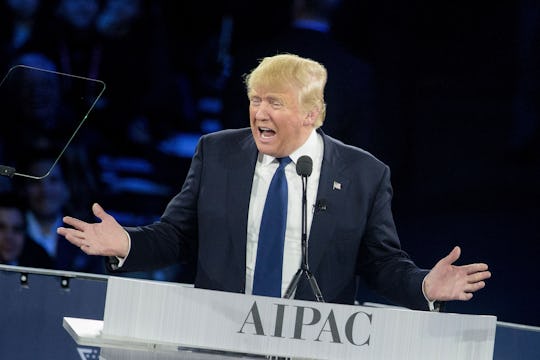 BRENDAN SMIALOWSKI/AFP/Getty Images
Is Donald Trump Right About Brussels? He Didn't Say Nice Things After The Bombings
Another day, another insensitive comment from Republican presidential candidate Donald Trump. Trump spoke to a number of media outlets Tuesday following the terrorist attacks in Brussels, and naturally he was asked to comment on the situation. He responded by more or less blaming the problem on Belgium's government not doing enough to protect its borders, telling Matt Lauer and Savannah Guthrie in an interview with Today that "Brussels is a total mess,'' and that "[it] used to be...one of the most beautiful and one of the safest cities in the world, and now it's a...very dangerous city where the police have very little control." Is Donald Trump right about Brussels?
Trump isn't the only one discussing stricter border security following the Brussels attacks — French Prime Minister Manuel Valls called for more vigilance across the entire European Union, for one, according to Politico — and obviously the reality of terrorist violence needs to be taken seriously. But, as with many of Trump's opinions, anything of value that he did say was quickly overshadowed by the way he chose to say it: as an insult.
As someone who has spoken unabashedly in the past about wanting to ban Muslims from the country as a terrorism prevention technique, Trump was clearly not going to provide reporters with the usual refrain of sending thoughts and prayers. But in the wake of tragedy and innocent lives lost, it would have been nice to see some kind of humanity from the outspoken billionaire. Instead, he opted to kick Brussels when it was already down, telling Lauer and Guthrie that, even before the attacks, the city was a "total mess," and "a horror show."
Trump's comments weren't isolated only to Today, though. In an interview with Fox and Friends, Trump said the attacks in Brussels further proved why his long-held opinion about closing off America's borders is the right one:
I would close up our borders to people until we figure out what is going on. Look at Brussels. Look at Paris. Look at so many cities that were great cities…[We] have to be smart in the United States. And when people come in—we're taking in people without real documentation. We don't know where they're coming from. We don't know where they're from, who they are…[They] could be ISIS, they could be ISIS-related. And you know, we just don't learn. We don't learn. Brussels is an amazing example. Brussels was an absolutely crime-free city. One of the most beautiful cities in the world. And now you look at it, it's a disaster.
As for his view on Salah Abdeslam, the leader of the Paris attack who was recently arrested in Brussels? According to CNN, Trump said that waterboarding is the answer — despite it being a torture technique and therefore illegal:
Frankly, the waterboarding, if it was up to me, and if we changed the laws or have the laws, waterboarding would be fine. I would say they should be able to do whatever they have to do.
You know, we work within laws. They don't work within laws — they have no laws. We work within laws. The waterboarding would be fine, and if they could expand the laws, I would do a lot more than waterboarding.
Unsurprisingly, both of Trump's Democratic rivals, former Secretary of State Hillary Clinton, and Vermont Sen. Bernie Sanders, spoke out against Trump's position. According to Us Weekly, Clinton also spoke to Today via a phone-in interview following Trump's segment, and insisted that closing the borders is not the answer:
We've got to be absolutely smart and strong and steady in how we respond. It's unrealistic to say we're going to completely shut down our borders to everyone. We've got to stand in solidarity with our European allies. I know that Americans have every reason to be frightened by what they see…[and] we have to intensify our efforts to keep America safe.
Sanders also disagreed with Trump's comments, according to Us Weekly, arguing on Jimmy Kimmel Live! that condemning ISIS does not mean condemning all Muslims:
I think people get afraid, and for good reason. ISIS is a disgusting, barbaric organization. We've seen what they've done in Paris, what they've done in Brussels. People are afraid of an attack in the United States, but I think what we have to understand is we're not going to undermine the Constitution of the United States of America in order to effectively destroy ISIS.
At the end of the day, we cannot allow the Trumps of the world to use these incidents to attack all of the Muslim people in the world. That is unfair. To imply that if somebody is a Muslim they're a terrorist, that is an outrageous statement. That is not what this country is about.
The threat of ISIS-led terrorism is one that is frightening to everyone, pretty much everywhere. And, just like the Paris attack before it, the attacks in Brussels are another example to the rest of the world that the danger is very real. But, instead of coming together to support each other in the fight against terrorism, Trump is choosing to cast judgement and reinforce his own agenda (which likely wouldn't work if it became policy). And, given that he could be President, that's pretty scary too.