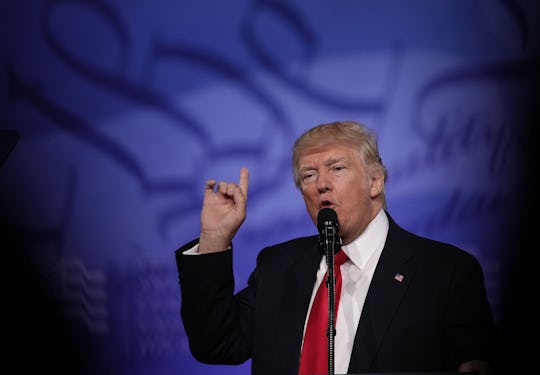 Alex Wong/Getty Images News/Getty Images
Is Donald Trump Watching The Oscars?
The 2017 Oscars are upon us, bringing to a close the first awards show season of the Trump administration. Unsurprisingly, awards shows have been some of the most fertile ground for artists to talk about their dismay with President Trump and the startling lack of empathy and inclusion that mark the beginnings of his presidency. So is Donald Trump watching the Oscars? Given his track record of responding to celebrity mentions, we'll likely hear from him if he gets called out during the ceremony. Update: On Monday, President Trump spoke to Breitbart News about the Oscars and had the following to say:
"I think they were focused so hard on politics that they didn't get the act together at the end. It was a little sad. It took away from the glamour of the Oscars. It didn't feel like a very glamorous evening. I've been to the Oscars. There was something very special missing, and then to end that way was sad."
Earlier: White House Press Secretary Sean Spicer went out of his way to assure the public that President Trump has better things to do that night. Said Spicer in a press conference:
Hollywood is known for being rather far to the left in its opinions. I have to be honest with you. I think the president will be hosting the Governors Ball that night. I feel like that is where the president and first lady are going to be focused on Sunday night and so we will go from there.
At the Golden Globes, Meryl Streep delivered a scathing anti-Trump speech which he responded to (unfavorably) on Twitter. At the Grammys, Busta Rhymes referred to him as "President Agent Orange" twice when performing with A Tribe Called Quest. And President Trump regularly responds to digs at him made by Saturday Night Live. So there's definitely a precedent set. But even though it seems like he'll be too busy presidenting to live-tweet the event, it's hard to believe that he won't respond at some point.
However, Trump did tweet that he's at a "big dinner" with governors tonight, so looks like he might not be watching after all:
Very convincing! I almost believe that he doesn't have a TV set to the Oscars telecast strategically stashed in a back room somewhere to slip away and watch when he gets bored!
In all seriousness, though, when whatever the anti-Trump moment of the evening is unfolds, it will certainly go viral enough to reach him, and he will almost definitely have something to say about it. Whether he keeps it to himself (and his inner circle) or broadcasts it via Twitter seems like it hinges on whether his team at the White House can keep him wrangled or not. While his morning-after tweets generally oscillate between entertaining and depressing — and there is some sort of weird satisfaction in knowing that he hears and engages with the people who criticize him — one thing remains constant. The impact of the artists' messages is always more powerful than President Trump's response tweets.