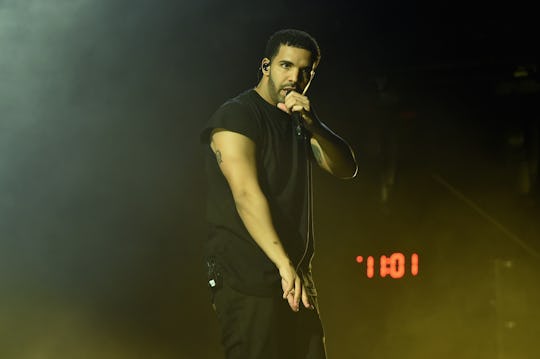 Kevin Winter/Getty Images for Coachella
Is Drake Performing At The Grammys? It's All A Bit Confusing
The announcement of Beyonce's Formation World Tour wasn't the only big musical surprise at the Super Bowl last weekend. An ad for the 58th Annual Grammy Awards, which air next Monday night on CBS, advertised that Drake would be performing at the award ceremony. But apparently no one told the Canadian rapper. So is Drake going to perform at the Grammys or not?
Drake tweeted almost directly after the ad aired that he was "not performing at the Grammy Awards" before adding, "hey, it's the thought that counts."
If he's not going to perform at all, it would be a huge bummer. Drake is up for five nominations so he's definitely going to be at the Staples Center in Los Angeles that night (one would assume, right?). Drizzy's nominated for Best Rap Album for If You're Reading This It's Too Late, Best Rap Song for "Energy," Best Rap/Sung Collaboration for "Only," and Best Rap Performance for "Back to Back" and "Truffle Butter." It's usually customary for artists to perform songs that they are nominated for and that could be what the confusion is all about.
Let's untangle this mess. Nicki Minaj is confirmed to perform at the award show and it would be pretty killer if Drake could join her for one of the songs off her album, The Pinkprint, which is also up for Best Rap Album of the year. But even though the term "truffle butter" has now entered the American lexicon, something tells me that CBS isn't having any of that. The Grammys are not as white as the Oscars, but it is the most mainstream celebration of mainstream music. It also seems unlikely that the network will be gathering up the other artists on the tracks, Lil Wayne and Chris Brown, to join them. Chris Brown would be controversial enough. Having him sing that "Only" hook would just be adding fuel to a fire.
But it's more than just raunchy lyrics and logistics. Drake's other nomination for rap performance is for "Back to Back." That track was never an album single. It's a diss track targeted at Meek Mill that had anyone who cares about rap feuds (raises hand) analyzing the lyrics and trolling Twitter for Mill's counter punch. Meek Mill is also Minaj's S.O. which makes a group medley of all the collaborations on her album even less likely.
Still, we can hope. It's still possible that Drake could perform if someone at CBS saw his tweet and wants to make nice. Here are a few ways the two parties might be able to strike up a Grammys deal:
The Compromise
Drake could do a medley of the singles from If You're Reading This It's Too Late. Collective shrug all around.
RiRi & Drake 4Ever
Drake is on Rihanna's single "Work," off her new album Anti, and she is also confirmed to perform at the Grammy's. It's very possible that the typo on the Super Bowl ad for the show just assumed that Rihanna would be her doing her newest single, with the featured artist accompanying her. Rihanna's also implicated in the Drake and Meek Mill feud. Either way, everyone should be on shade patrol come Grammy night.
The Worst Case Scenario
Drake performs "Hotline Bling." Fine, it was a great tune. Until it got stuck in everyone's head and Donald Trump got involved. This might be the most depressing option of all, which is why it's entirely possible viewers will hear it live next Monday.
Again, the Grammys have a good record for honoring good music (the fact that Drake is nominated for a diss track is rap history in the making) but the performances are always pretty vanilla. It'd be one thing if it were the MTV Video Awards. It's not. There are so many ways a Drake performance — or at least appearance — could go. Let's first hope he comes around and calls the network's bluff.