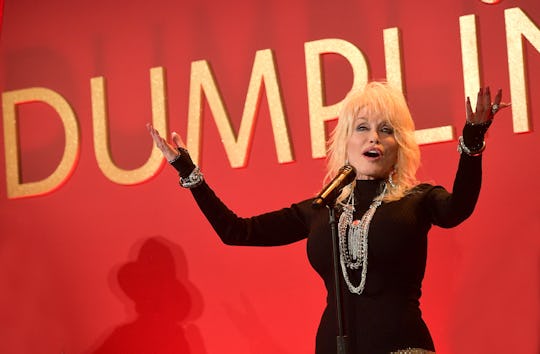 Matt Winkelmeyer/Getty Images Entertainment/Getty Images
The New Netflix Movie, 'Dumplin'', Has A Familiar Feel
Unless you've been living under an actual rock — which isn't really possible unless you're a bug — you've probably heard all the hype about the new Netflix movie, Dumplin'. With a Texas-pageant theme and superstar cast including Jennifer Aniston and the mega-magnificent, Dolly Parton, it'd be hard not to watch it. In case it sounds familiar, you might wonder: Is Dumplin' based on a book?
If you're a huge YA contemporary fiction fan, you already know the answer is a resounding yes — Dumplin' is based on the book by the incomparable Julie Murphy. Originally released in 2015, Dumplin' is Murphy's second book through Balzer + Bray. The official synopsis for the book, according to Murphy's website, said:
"Self-proclaimed fat girl Willowdean Dickson (dubbed 'Dumplin'' by her former beauty queen mom) has always been at home in her own skin. Her thoughts on having the ultimate bikini body? Put a bikini on your body. With her all-American-beauty best friend, Ellen, by her side, things have always worked… until Will takes a job at Harpy's, the local fast food joint. There she meets Private School Bo, a hot former jock. Will isn't surprised to find herself attracted to Bo. But she is surprised when he seems to like her back."
Sounds pretty great, right? But wait — there's more.
"Instead of finding new heights of self-assurance in her relationship with Bo, Will starts to doubt herself. So she sets out to take back her confidence by doing the most horrifying thing she can imagine: entering the Miss Clover City beauty pageant — along with several other unlikely candidates — to show the world that she deserves to be up there as much as any twiggy girl does. Along the way, she'll shock the hell out of Clover City—and maybe herself most of all. With starry Texas nights, red candy suckers, Dolly Parton songs, and a wildly unforgettable heroine—Dumplin' is guaranteed to steal your heart."
The movie, to release on Netflix, Dec. 7, seems to have the same general storyline as Dumplin' the book, with the Netflix site saying, "To prove a point about measuring up and fitting in, Texas teen Willowdean Dickson enters a local pageant run by her ex-beauty queen mom." With Danielle McDonald as Will, you'll root for her to do her thing. It'll be interesting to see how closely the film is adapted from this incredible book. Plus Murphy also wrote a follow-up book, Puddin' about supporting character, Millie Michalchuk (played by Maddie Baillio). So, this could mean another movie at some point.
Jennifer Aniston doubles as producer of the movie and Will's pageant-obsessed mom, Rosie. Aniston said she took the role due to the difficult relationship she had with her own mother growing up. Aniston explained, "She was a model and she was all about presentation and what she looked like and what I looked like. I did not come out the model child she'd hoped for."
She also sang an original song for the movie, "Push and Pull," with her co-star Danielle Macdonald, at Parton's request. There are a total of six songs Parton wrote and recorded for Dumplin' as well — in including a new Golden Globe-nominated song, "Girl in the Movies."
Whether you read the book or watch the film (or both), Dumplin' has the kind of feel-good heart that can't go unrecognized. Plus, that Dolly Parton soundtrack is everything.
This first-time mom wants to have a home birth, but is she ready? Watch how a doula supports a military mom who's determined to have a home birth in Episode One of Romper's Doula Diaries, Season Two, below. Visit Bustle Digital Group's YouTube page for the next three episodes, launching Mondays in December.