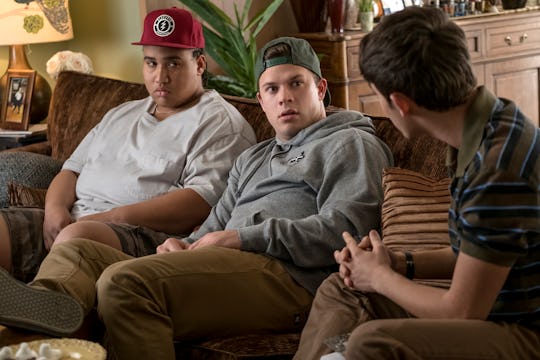 Tyler Golden/Netflix
Is Dylan From 'American Vandal' Based On A Real Person?
If you only watched the first couple of seconds of the trailer for Netflix's American Vandal you could be forgiven for thinking you're about to dive into yet another gripping true crime story, so convincingly does the show mimic the popular genre. Then a few seconds later, you realize it's actually a satire. But is any of it (or anyone) based on reality? For example, is Dylan from American Vandal based on a real person? Well, if you're interpreting things very, very loosely, then kind of, yeah.
In recent years, true crime dramas have found their way from Dateline to near-ubiquity. Many credit the excellent podcast Serial with bringing the genre to the forefront of pop culture. Now, with specials like Making a Murderer, The Jinx, Amanda Knox, and Casting JonBenet, it seems there's another true crime documentary every other day. I'd like to say that I don't know what draws people to these lurid stories, but I am as hooked on true crime as anybody, and watched all of these shows while biting my knuckles in fascination. That said, I can still laugh at myself, and apparently so can Netflix. This parody version of one of my favorite guilty pleasures is absolutely hilarious.
If you've ever wondered if you could stretch one stupid joke out for an entire series, American Vandal is here to say that yes, yes you can. Its format most closely resembles that of Making a Murderer. In that series, a man named Steven Avery is accused of murder, after it was discovered that he was wrongfully convicted of rape many years previously. The show makes a convincing case that Avery is totally innocent of the murder charges. One aspect of Avery's personality that is brought up is that he is uneducated, which is used against him. This is the person the creators of American Vandal most closely based their lead, Dylan, off of.
In Vanity Fair, show creators Dan Perrault and Tony Yacenda talked about their inspiration for Dylan. "There's a really specific voice and vibe to a Steven Avery, who is uneducated in a very specific way. It really adds texture to that whole world," Yacenda said. "We thought, what better comedy version than Steven Avery [as] a SoCal stoner?" What indeed?
The drama revolves around some vandalism found in the faculty parking lot of the fictional Hanover High School in California. Apparently, someone has gone around and spray-painted phalluses on 27 cars. (Yup, you heard me correctly.) The committed seriousness to the crime, the apparent railroading of Dylan who insists he is innocent, the independent investigation by a fellow student, the childhood photos, and the interviews with other teachers and students all combine to poke brilliant fun at the true crime genre.
The actual facts of the "case" however, are very much fiction. Not that I'm saying no high school student has ever gotten the idea to spray-paint male genitalia on teachers' cars, but this particular drama is completely made up. Dylan is played by comedian and actor Jimmy Tatro, who got his start in acting with his own YouTube channel LifeAccordingToJimmy, which he started while in college at the University of Arizona. This later led to roles in movies like 22 Jump Street and now, American Vandal.
So no, the Dylan of the show is not based on a single real person. But perhaps Dylan represents all of us who have ever been unjustly accused of something in school. If it has happened to you, I know that you remember it, and I'm pretty sure it felt as serious to you as it feels to the characters in this mockumentary about phallic-themed vandalism.
Watch Romper's new video series, Romper's Doula Diaries:
Check out the entire Romper's Doula Diaries series and other videos on Facebook and the Bustle app across Apple TV, Roku, and Amazon Fire TV.