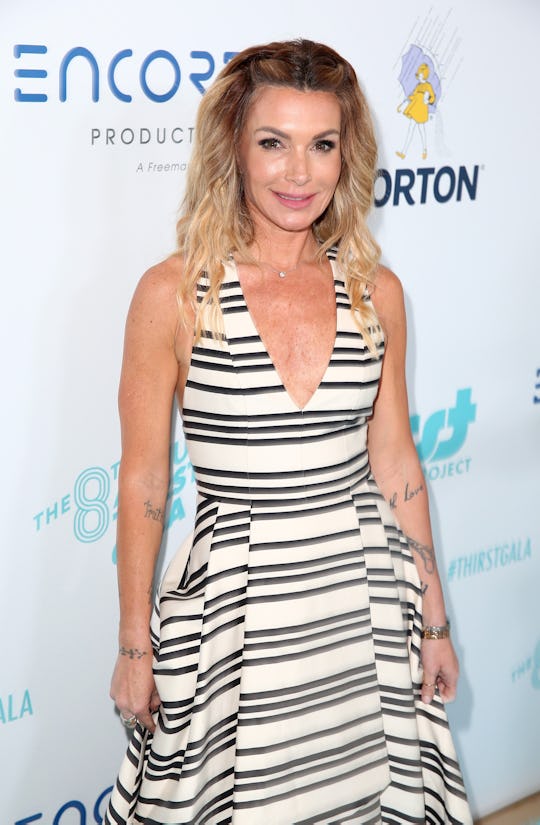 Joe Scarnici/Getty
Don't Expect To See Eden Sassoon On 'RHOBH' Season 8
It's a simple fact of life that not everyone was cut out for the life of a Real Housewife. Some women find a home there, and remain Housewives for as long as their city airs. Others try it out for a season and decide their talents are better served elsewhere. So is Eden Sassoon returning to Real Housewives of Beverly Hills? Introduced as a friend of the Housewives in the show's seventh season, the daughter of world famous hair-stylist Vidal Sassoon, decided to say goodbye to the show after just one year. I wouldn't feel too bad for her though. Eden seems perfectly content to go back to her life as a (relatively) normal human sans cameras.
Eden first got close to the group through her friendship with Lisa Rinna, a wildcard Housewife if ever there was one. But this friendship wasn't all smooth sailing and Eden did not get the easiest transition into the World of the 'Wives. She made waves immediately when she started asking about Kim Richards and her addiction — as Eden is a recovering addict herself. Before you knew it the whole situation had snowballed into a "she said, she said" situation with Eden, Housewife Newbie, wondering how exactly she'd found herself in this predicament. It was good drama, but not one that I'd care to repeat as a participant.
In a Facebook post that has since been deleted or made private, Eden announced that she would not be coming back for more Housewives for another season. In the post she reportedly stated, according to E! News, "I want to BE the one to share with everyone this news. I WILL NOT BE RETURNING TO #RHOBH NEXT SEASON. In receiving this #news I feel free & ALIVE to BE the REAL ME that was not shown to the #bravo world of viewers. I truly am #grateful for the experience & huge life lessons I was up against." It's unclear from this post who initiated the split, but what is clear is that Eden feels good about it. I don't doubt that there's more to this lady than what we saw on TV.
Reiterating the "no hard feelings" vibe, Eden also took to her Twitter account to express how she felt about the show. In her tweet she wrote, "And my job here is done with integrity and class #RHOBH will get #edenhugs always." Since leaving the show, it looks like Eden is still living her very best life. Her Instagram and social media accounts are filled with motivational quotes, adorable selfies with her loved ones (including her amazing mom that the show introduced us to), and extremely glam selfies. I have a feeling the pilates instructor is going to be just fine without the RHOBH ladies in her life every day.
As for what's next for the show, Eden may no longer be a part of the cast, but they're still making some major changes. Season 8 will introduce viewers to a new 'Wife in the form of another daughter of an icon, this time Teddi Mellencamp Arroyave, the daughter of John Mellencamp. The series is also bringing back Camille Grammer in the friend role that Eden is vacating. Camille was a main cast-member for the first two seasons of the show and returned intermittently in small guest appearances. But I'll take more Camille in any capacity.
While there was definitely something endearing about Eden's earnestness and new age philosophies, she maybe didn't have quite the killer instinct that this show sometimes requires. Even though she's off to do better things, I still can't wait for everything this show has to offer.