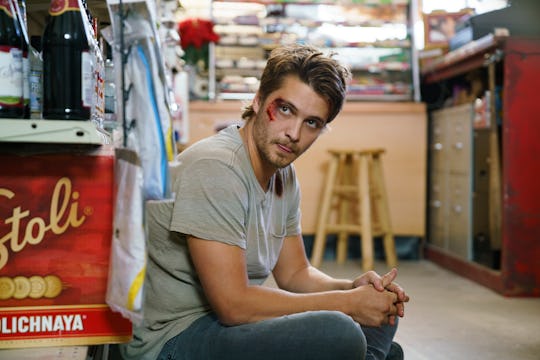 Bruce Finn/Netflix
Netflix's 'El Camino Christmas' Is A Different Kind Of Holiday Movie
Ah, Christmas. A time of love and joy, peace and family, snow and hot cocoa. At least it is in theory. One new Christmas movie doesn't exactly follow this idealistic formula, and it's set in a town where there's definitely no snow. So is El Camino a real place on Netflix's El Camino Christmas? It is a different kind of Christmas movie, taking place in the desert, a place where hot cocoa is the last thing anybody wants.
Descriptions of the movie clearly state that El Camino is fictitious, but it is a perfect representation of hundreds of small desert towns in the American southwest. The movie is a farcical dark comedy about an accidental liquor store hold-up and a perfect storm of professional incompetence. But at least there is love and family. The official description of the film reads:
When Eric Roth (Luke Grimes) goes on an impulsive journey to find the father he never knew, his search takes him to the remote desert town of El Camino, Nevada, where he's mistaken for a drug dealer by local, dim-witted law enforcement and winds up pinned down in a liquor store holdup with five other lost souls on Christmas Eve… one of which is is father.
If that doesn't say Merry Christmas then I don't know what does.
The movie, directed by David E. Talbert and cowritten by Ted Melfi and Christopher Wehner, has actually been a long, long time in the making. In an interview with Deadline, Melfi explained how the movie got off the ground. "El Camino Christmas is something that I started 10 years ago when I bought the script from Chris, and I have been trying to make the movie ever since," the writer explained. "Finally, with the help of Netflix, which has been so fantastic, we are getting this movie off the ground in time for Christmas." Melfi is best known for his Oscar-nominated film Hidden Figures, about three black women who were instrumental to NASA in the dawn of the space age.
El Camino Christmas strikes something of a different tack. Via Netflix, Talbert described the film as, "As funny as it is gritty. As triumphant as it is tragic." It also doesn't hurt that the movie boasts an all-star cast of misfits and heroes, including Tim Allen, Dax Shepard, Jessica Alba, and Kurtwood Smith.
Perhaps because the story relies so heavily on the bumbling mistakes of local law enforcement as well as local news, the town is not based on any one place in particular. But the hot, dusty setting, as far removed from a winter wonderland as it's possible to get, is essential to the tone of the movie. This is not a typical Christmas movie, though it does have its fair share of heartwarming moments amidst the silliness.
In a CBS interview, all that Shepard shared about the movie was that he was thrilled with his mustache. "My character has a mustache. That's what I can tell you about my character," he teased. "To my surprise, it was a pretty bushy, full mustache. I had reservations it wouldn't be as full as I hoped, but it really came through, especially on the big screen." In fairness, it is a pretty great mustache.
Perhaps it's for the best that El Camino is not a real town. From the looks of what happens on Christmas in that place, it doesn't look like the type of area I'd be overly keen to visit, myself. However, it does make a great spot for Christmas Eve hijinks, terrible police officers, and long-lost family members.
Check out Romper's new video series, Romper's Doula Diaries:
Watch full episodes of Romper's Doula Diaries on Facebook Watch.