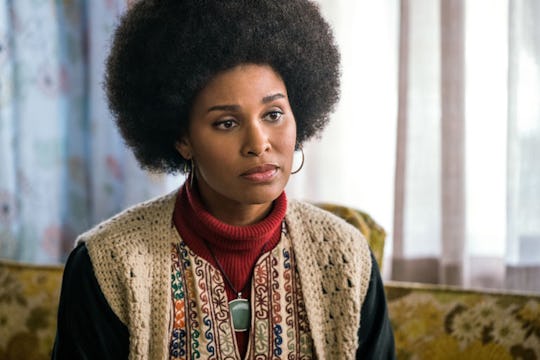 Amazon
Is Eleanor Holmes Norton From 'Good Girls Revolt' A Real Person? She Plays A Huge Role
Amazon's latest period drama Good Girls Revolt drops on Friday, Oct. 28, and, as its trailer teases, it's based on a real story. Lynn Povich, a former employee of Newsweek during its infamous female staff uprising, wrote the book upon which the series is based, entitled The Good Girls Revolt: How the Women of Newsweek Sued their Bosses and Changed the Workplace. Paramount to the ladies' success in the Amazon series is their lawyer Eleanor Holmes Norton, played by Joy Bryant. But, since it's based on a true story, is Eleanor Holmes Norton from Good Girls Revolt a real person?
Actually, she is, and she currently serves as a delegate representing the District of Columbia in Congress. But back in 1969, when Good Girls Revolt takes place, she was working as an ACLU lawyer. Norton graduated from Yale Law School in 1964, during which she spent time volunteering in the Mississippi Freedom Summer. By the time she met the women of Newsweek, she'd already had plenty of experience in discrimination cases, but typically involving racial discrimination, rather than workplace sexism. In fact, the same year she won the Newsweek case, she was appointed to the New York Human Rights Commission, and used her platform there to advocate for the application of the Civil Rights Act of 1964 to women and gender-based discrimination.
She was pivotal in outlining what constituted sexual harassment in the workplace as the first female Chair of the US Equal Employment Opportunity Commission, appointed in 1977, and in outlawing it as part of sexual discrimination which violated women's civil rights. During a time when black women and white women felt too dedicated to the liberation of their own communities to pick up one another's causes, Norton was working to convince them that their battles were each other's. She was really a pioneer in getting women to think intersectionally about their feminism.
Joy Bryant addressed this element of her character's history recently in an interview with Elle, saying:
"From the very beginning, Eleanor is there to enlighten these ladies about where they are and what their potential can be. [She grows] in a sense of watching these women — who she was there to support and help nurture through this process — rise up and take ownership of themselves in their lives. So that's pretty cool. Her function is to get them to understand that they were being oppressed, and that they needed to make a change – not just for themselves but for women in general."
Norton is an unbelievable role to snag, and from the looks of the pilot, it definitely seems like both Bryant and the show do her justice.