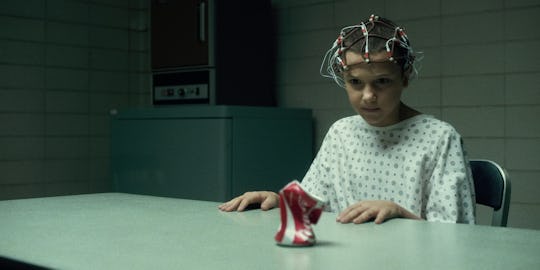 Netflix
Is Eleven Dead On 'Stranger Things'? There Are Some Questions Left Unanswered
(Warning: This post contains spoilers from Stranger Things Episode 8.) The entire season of Stranger Things was shocking. Whether it was twists regarding Will's disappearance, or just character developments you didn't see coming, fans were constantly being kept on the edge of their seats, couches, beds, wherever you were watching from. One of the most shocking moments from the inaugural season was, perhaps, the scene when Eleven battled the monster, leaving many wondering if Eleven is now dead on Stranger Things, or if she managed to somehow survive that very intense face-to-face.
The final battle took place in the middle school, where the kids were hoping to hide out from Dr. Brenner and his co-scientists. It was also a safe place for the kids to hide out from the monster, who was maybe dead after Jonathon, Nancy, and Steve had their own battle. Unfortunately, it didn't kill the monster, who is clearly drawn to blood. When Eleven presumably killed the scientists coming for the children, there was a lot of blood, which meant that the monster appeared. The battle led to one final showdown between Eleven and the boys and the monster in their classroom. Despite their best efforts, the slingshots and rocks the boys bought didn't get the job done. Instead, Eleven had to step in, and it might have been the last thing she ever did.
Although we never really learned about the science behind Eleven's powers, we can assume that when she overexerts her powers, she becomes weaker. It's the reason the boys were trying to stock her up with pudding before the final battle, to replenish her. Unfortunately, using her powers against the monster seems to have taken all of the life out of her. In a moment of power-overload, Eleven and the monster evaporated, leading me to believe that she and the monster were gone forever.
The correlation between Eleven's powers and strength became obvious during the final scenes in the hallway of the school when she used her powers to kill the scientists coming after her. After exerting herself to the maximum potential, she collapsed, and had a tough time coming to immediately. Luckily, she was able to sum up enough strength to battle the monster one final time, subsequently saving Will, Lucas, and Dustin's lives.
Of course, this means that there is no more Eleven, right? Don't get your hopes up to see her again. The powerful moment seemed like a good close to her story, which was heartbreaking throughout the entire series. Here's a girl who has no concept of what it means to have people love you, or what it even means to love other people. Throughout the series, she not only receives that love, but also learns to love, too. In the ultimate sacrifice, she uses herself to protect those she loves.