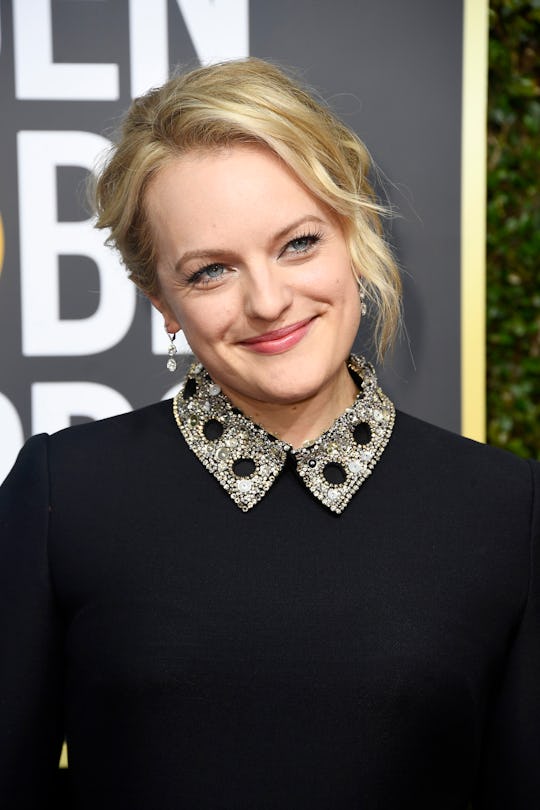 Frazer Harrison/Getty Images Entertainment/Getty Images
Here's Why Twitter Is Really Confused About Elisabeth Moss' Dress At The Golden Globes
There was an unmissable theme at the 2018 Golden Globes. Reports came out in December that both men and women would band together and wear all black to make a symbolic statement against the wave of sexual harassment allegations that have come to light, capitulating from the entertainment industry. As actor after actor made their red carpet debut at this year's awards show, Twitter couldn't seem to figure out if Elisabeth Moss was wearing navy to the Golden Globes, or if she's wearing black like sea of stars she was sitting amongst this year.
Many on Twitter seemed to be squinting their eyes at their phones and computer screens when Moss walked the red carpet. But it would seem odd that Moss wouldn't participate in the blackout as well, which is not about making a fashion statement — stars wearing black are making a statement of solidarity for the "mission of anti-sexual harassment group Time's Up," as CNN reported.
What would make it even more bizarre choice to wear something other than black is that Karla Welch, Moss' stylist, reportedly donated her "day rate" on Sunday to the Time's Up initiative, according to The Hollywood Reporter. "Everyone has been really supportive," Welch told the publication. "Designers have remade dresses in black; it's been pretty awesome."
In fact, many outlets covering Moss' Golden Globes outfit have described it as black. "In a star-studded night that had so many beautiful black gowns and outfits, Elisabeth's dress stands apart for its classic simplicity," Hollywood Life reported on Sunday. Vogue also reported that Moss chose "Dior Haute Couture" dress for the evening, not drawing any attention to a different color choice.
Perhaps it was the jewel accents on the collar of her dress or the dark backdrop that had people doing a double-take. But it appears as though Moss was indeed wearing black with the rest of Hollywood's finest on Sunday evening. Still, some on Twitter were concerned that The Handmaid's Tale star somehow missed the wardrobe memo.
Moss' dress wasn't the only topic of conversation, of course. The talented actress was recognized for her portrayal of Offred in Hulu's The Handmaid's Tale, taking home the Golden Globe award for Best Performance by an Actress in a Television Series Drama. And her acceptance speech wasn't just your run-of-the-mill moment thanking the cast and crew of the show, which she did, but Moss also shared a quote from Margaret Atwood that "addressed the show's relevance to the current conversation surrounding sexual harassment and misconduct in Hollywood," as Cosmopolitan reported.
"We were the people who were not in the papers," Moss read during her acceptance speech. "We lived in the blank white spaces at the edge of print. It gave us more freedom. We lived in the gaps between the stories." She continued:
Margaret Atwood, this is for you and all of the women who came before you and after you who were brave enough to speak out against intolerance and injustice and to fight for equality and freedom in this world. We no longer live in the black white spaces at the edge of print. We no longer live in the gaps between the stories. We are the story in print and we are writing the story ourselves.
You can watch the moving acceptance speech below:
Moss has long been one to take down the patriarchy and she identifies as a feminist. "... I am a feminist, and I'm not ashamed of it," she told TIME in April while discussing her role in The Handmaid's Tale. And, on Sunday, Moss used her winning moment at the Golden Globes to address the political climate right now and the epidemic of sexual assault allegations that have come to light in recent months. Wearing anything other than black would truly seem out of place and that certainly wasn't the case with Moss at the Golden Globes.
Check out Romper's new video series, Romper's Doula Diaries:
Watch full episodes of Romper's Doula Diaries on Facebook Watch.