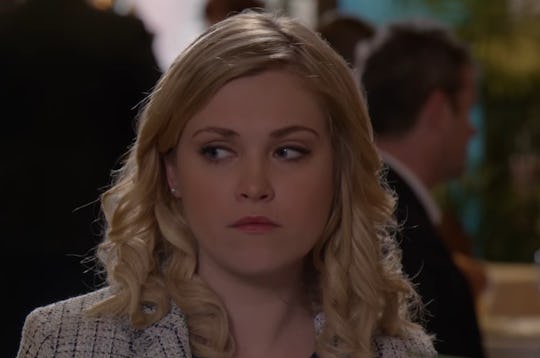 Netflix
Ellen From 'Christmas Inheritance' Is An Heiress You Need To Know
If you loved A Christmas Prince, get ready for Netflix's latest Christmas romance film. The new movie stars The 100's Eliza Taylor as Ellen Langford, an heiress who's determine to do whatever it takes to become the next CEO of her father's gifting company. If the story of a heiress having to get her life back on track sounds familiar, you may wondering if Ellen from Christmas Inheritance is a real person. Although she isn't, it wouldn't be surprising if she was inspired by some real-life heiress, like Paris Hilton or any member of the Kardashian family.
No matter where the story of the Christmas Inheritance came from, it certainly sounds like another so-bad-it's-good Christmas love story. In order to regain her father's trust, Ellen travels to his hometown, which of course is called Snow Falls, in order to deliver letters to her Uncle Zeke, her father's former partner. Unfortunately, disaster ensues. As soon as Ellen gets there, all of her things fall out of her bag and into the snow. Then when she arrives at the town inn, she discovers her uncle just left. Still determined, Ellen decides to stay and wait for him to return, only to be snowed in. (But I mean, what did you really expect from a place called Snow Falls?)
But perhaps having to spend the holidays in such a quaint little town (where no one knows who she is) is the perfect way for Ellen to learn the true meaning of Christmas. Or to learn how to really run her father's company. Or both. It's kind of unclear what exactly Ellen's supposed to be learning on this trip, but I have no doubt that it will eventually lead to a happy ending.
Of course, this wouldn't be a feel-good Christmas movie if there wasn't some romance thrown into the mix. Despite the fact that Ellen has a fiancé waiting for her back home, when she gets to Snow Falls she meets a new guy played by Jake Lacy (you may recognize him from Girls and How to Be Single). Awkwardly, he seems to think Ellen is someone he can trust, even though she's lying about who she really is and the fact that she's engaged to marry someone else. But that's neither here nor there, because this is a Christmas movie and everything will surely work out in the end somehow, right? Probably.
Anyway, this movie has everything you could want from a Hallmark-esque Christmas film. There's a love triangle, a snowy back drop, a CW lead actress, and someone with a secret identity. If you were a fan of A Christmas Prince, you'll surely love this new Netflix Original. If you haven't seen A Christmas Prince yet, now's the perfect time to watch it so that you can marathon both movies, which are currently streaming on Netflix.
A Christmas Prince stars iZombie's Rose McIver as Amber, a journalist who goes to the small (fictional) country of Aldovia for a press conference about Prince, Richard, who is about to become king. However, when the prince ditches the press conference, Amber sneaks her way into the castle and ends up going undercover as the tutor for the prince's younger sister, Emily. But as you can imagine, what was initially a job assignment soon turns into a magical romance.
So grab your favorite cozy blanket and snuggle up with A Christmas Prince and Christmas Inheritance this weekend. Get ready to find yourself falling in love with these cliched (but totally heartwarming) movies.
Check out Romper's new video series, Romper's Doula Diaries:
Watch full episodes of Romper's Doula Diaries on Facebook Watch.