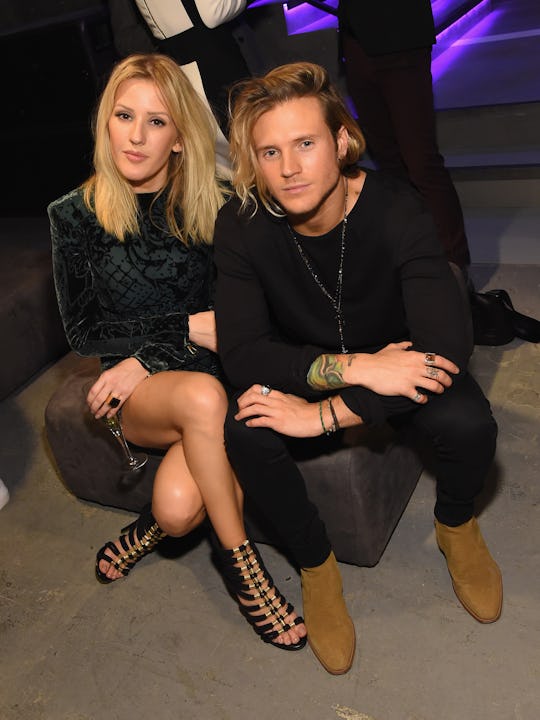 Larry Busacca/Getty Images Entertainment
Is Ellie Goulding Single? She & Dougie Poynter Are Taking Time Apart
The blonde, British bombshell who brought fans the addictive hit "Love Me Like You Do" is competing for a Grammy for the first time this year. Ellie Goulding never fails to bring a bit of glamour to the red carpet, but will she have someone on her arm? Given the conflicting rumors about her status, fans are still wondering: is Ellie Goulding single?
What with the tumult of her romantic life recently, it's an honest question. Quick on the heels of hints at marriage, Goulding reportedly ended things with boyfriend and fellow musician Dougie Poynter back in December. A source told the Daily Mail, "They are taking a break. Their work commitments have meant they have been spending more and more time away from each other and it has made it difficult to maintain their relationship." The source said they might try to work things out, according to the Daily Mail:
They've decided to have a temporary break to see if they can work things out. They are both very sad that things have hit a rough patch, but are trying to see if a little distance can help them get through it.
But, don't worry, it appears they are back together again just in time for Valentine's Day, and, yes, The Grammys. Goulding and Poynter have been together for two years now, and though their demanding schedules were causing some tension, they have moved through the rough patch. Like Goulding, Poynter is in the entertainment industry. He was the bassist of the band McFly since 2003, though they are on a little break while he pursues other interests.
Poynter has reportedly been spending quite a bit of time in Los Angeles in an effort to jumpstart an acting career. He's definitely got the face for it, Goulding encourages him, and he's even got screen experience: he was the winner of the British reality show I'm a Celebrity...Get Me Out Of Here! which plops stars down, Survivor-style, on an island and chaos ensues.
Poynter isn't the only musician Goulding has been with. Before this relationship, she was with Skrillex, and then before that she reportedly had weird love triangle with Niall Horan and Ed Sheeran (it happens). Luckily, all that is over and she's found someone who is supportive of her incredible career. In an interview with Glamour, Goulding said:
Dougie and I have such different musical worlds, but he understands when I've had a tough rehearsal or tough couple of days traveling. I don't like to rely on him to get me through everything, though. I'm an independent person — I do like to take care of things myself. It's important to figure out ways of keeping your own Zen.
It's no surprise that they were able to work through their differences. Fans may even catch a glimpse of the couple in action during the Grammy festivities.