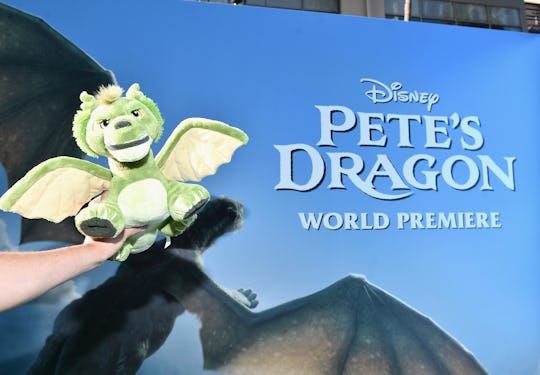 Alberto E. Rodriguez/Getty Images Entertainment/Getty Images
Is 'Elliot Gets Lost' A Real Book? It's Featured In The Family Film 'Pete's Dragon'
The highly anticipated Disney film, Pete's Dragon, hits theaters tomorrow, Friday, Aug. 12, and has drawn in attention from audiences looking for a final summer blockbuster to distract them from the heat. The cherished family film tells the tale of the adventures had by an orphaned boy named Pete and his best friend Elliot, a giant green dragon, whose name carries some special significance — one of Pete's prized possessions in the film is a heartwarming picture book about a lost puppy, who is also named Elliot. Fans of the movie, which is a remake of the 1977 classic, might be questioning: Is Elliot Gets Lost is a real book? An actual storybook full of never-before-seen illustrations created by the film's creative team tells an adorable story and, fortunately, it can be bought at bookstores and online as a memento from the movie or just an addition to your child's library.
Elliot Gets Lost is about a puppy who gets lost in the forest and travels throughout the woods in search of a new home. Throughout the book, Elliot comes across several adorable woodland creatures, like a questioning owl and some playful fox cubs. The heartwarming story follows the young puppy on his journey, through colorful illustrations, to find his family again with the help of fellow animals along the way.
In the movie, Pete and his buddy dragon, Elliot, don't appear in the picture book, but the movie and the book tell a similar story — there is the element of a journey. In the book, Elliot the puppy gets lost from his family and embarks on a journey to find them again. In the movie, the story sets out to find out where Pete, a mysterious 10-year-old boy who lives in the woods with no family or home, really comes from.
But, what's wonderful about both is that they can be enjoyed without having seen or read the other. Elliot Gets Lost — written by the film's screenwriter and director David Lowery and Toby Halbrooks and filled with creative illustrations by Benjamin Lowery — just happens to be a pretty adorable element of the film.
While, the film has darker tones than the book, both finish up on the happy note that parents have come to expect from Disney.
Disney has a knack for creating and recreating successful animated hits, like Finding Dory, The Jungle Book, and Zootopia and the remake of the beloved 1977 classic is also expected to bring in a crowd. The film is rated PG, so if parents feel the preschoolers and younger should sit this one out, Elliot Gets Lost is a great alternative for them to feel like they're getting in on some of the fun.