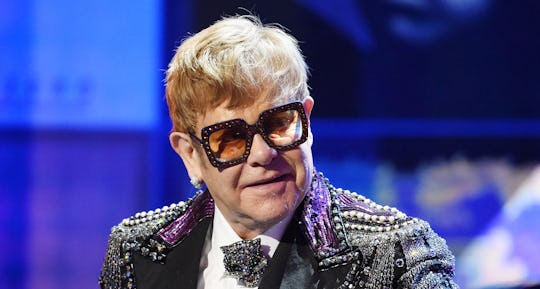 Michael Kovac/Getty Images Entertainment/Getty Images
Is Elton John At The Royal Wedding? The Musician Was Very Close With Harry's Mother, Princess Diana
Now that the royal wedding was here, we know for sure who was there and who wasn't. Since the beginning, Prince Harry and Meghan Markle made it very clear once they got engaged that they wanted their guests to have an actual close connection to them. With Prince Harry falling to sixth in line to the throne after the birth of his nephews and niece, he didn't have to do the obligatory invites to every international head of state or important person in Great Britain. So you might wonder who made the cut, including Elton John, who has a relationship with the royal family.
Given that he canceled two concerts that coincided with the wedding this weekend, according to Harper's Bazaar, it was speculated he planned to attend, and it was no surprise when he did. He had posted on his website that he had a "scheduling conflict" on May 18 and 19, but that sounded like code for "Sorry, Las Vegas, I got a better invite," particularly given the dates.
Elton John is no stranger to royal wedding invites. He was a guest at Duke and Duchess of Cambridge, Prince William and Kate Middleton's wedding in 2011, and, according to the Daily Mail, John was very emotional that day as it brought back memories of his friend and William's mother, Princess Diana. Her funeral was held at the same location as the 2011 royal wedding. Memorably, John had performed a reworked version of his song Candle in the Wind at Diana's funeral, changing the words from "Goodbye Norma Jean" after Marilyn Monroe to "Goodbye English Rose" for Diana. Actually, William's wedding being in Westminster Abbey, where the funeral was held, probably evoked a lot of emotion, especially for William.
Above: Elton John attending Prince William's wedding in 2011
Prince Harry and Prince William lost their mother, Princess Diana, in a car crash in 1997, when the boys were 12 and 15, respectively. Her absence was probably felt especially hard at their weddings and there was comfort in having their mom's old friends there watching on. And John is known to have a relationship with Prince Harry as well.
Because of their connection, John was asked to write a tribute of the prince in Time Magazine's 100 Most Influential People of 2018 issue. John lauded Harry for his charity work, including continuing Diana's quest for a cure for AIDS, mental health awareness, and his inception of the Invictus Games, a global sporting event for "wounded, injured and sick servicemen and women." In the article, John reflected back on when he first met Harry as a young boy and wrote, "What a joy it has been to see that young boy grow to inherit his mother's warmth, sense of humor and courage to stand up and champion the causes he truly believes in."
John's date to the wedding was his husband, David Furnish, who he married rather recently in 2014, after gay marriage became legal in the UK that year. How wonderful it must be for John not only to have attended Harry's wedding, someone who has known for decades, but to be there with his husband at his side.
But it seems like Harry is the one who lucked out on this friendship. The great thing about having a buddy who is literally a rock star, is that you can have them perform at your wedding. Harry and Meghan were probably thrilled to watch John sing at the reception. Who wouldn't want a private Elton John mini-concert at their wedding?
In a wedding crowd as large as Harry and Meghan's was, it isn't always possible to see and greet every single guest. But there's comfort in knowing who is in the chapel and who is celebrating with you at the reception. The love and support they got from their family and friends today is so important and they are lucky to have their peeps there, even if some of them had to cancel two concerts to make it.