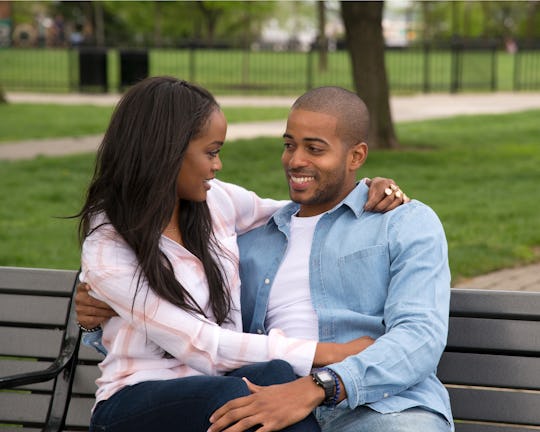 Randy Sager/ABC
Eric Is Keeping His Post-'Bachelorette' Life Quiet For Now
Ahead of The Bachelorette's finale where we'll (finally!) see which of the remaining men Rachel chose, Eric is absolutely the dark horse to win. Why? Because no one is expecting him to. All the Bachelor Nation conversations surrounding the final three seem to come down to Bryan vs. Peter, and I have to admit, Eric winning would be completely blindside me too. As much as he does seem to love Rachel, there just isn't the necessary spark there, and she's also the first woman he's ever been in love with. Assuming that has an impact on Rachel's final decision, is Eric dating anyone after The Bachelorette?
Eric has been really active on Instagram all season long, declaring his love for Rachel time and time again, posting pictures that coincide with episodes, and even using a #TeamEric hashtag in a lot of his captions. Fans have seen how earnest and genuine he is on the show, and that attitude really carries over to his social media presence.
There is almost definitely something in whatever contract he signed before going on The Bachelorette that prevents him from posting spoilers anywhere, which for sure includes posting about his dating life. Eric could very easily be secretly dating someone as I type this, but if he is, he's been very quiet about it.
Other than a truly adorable photo of him holding some puppies with a rose in his mouth, all of his posts have been about work, fitness, or in a couple of weird recent ones, promotion for The Emoji Movie.
He joked in the caption, "I fell in love with two girls and don't know which one to give my rose to?" It proves that Eric totally has a sense of humor about this whole thing, and that he seems to be really happy post-Bachelorette, which is nice to see. Whether or not he decides to discuss his dating life with the public after all is said and done is totally up to him.
"You can't teach chemistry because the love is REAL," Eric said in a caption on a post about Rachel during the hometown episodes. Regardless of how the season ends, these two definitely seemed to care about each other a lot. Although it took him some time to get there, I believed it when Eric said that he loved Rachel.
For her part, Rachel seems very confident in the choice she made. "He's more of a hopeless romantic than I am," she recently told People. And, well, we know Eric loves love. So who knows? Maybe there's hope for him yet.