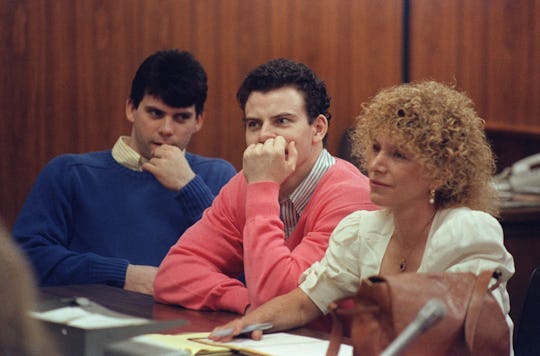 MIKE NELSON/AFP/Getty Images
Erik Menendez Managed To Find Love While In Prison
Show me a convicted killer and I'll show you several women who are either in love with them or in line to marry them because, yes, even murderers get love. And the Menendez brothers are no different, despite having been convicted in 1996 of the murders of both of their parents in the family's million dollar Beverly Hills Mansion. So is Erik Menendez married? Though he is currently serving a life sentence without the possibility for parole, the convicted murderer somehow still managed to tie the knot.
Menendez's wife, Tammi Menendez, met him through a letter she sent to him and from there, according to her, their relationship began. At first, he claimed to already have a girlfriend, but Tammi persisted in writing to him and eventually, she went to visit him in prison. And, according to an interview with Dan Abrams on The Abrams Report, Tammi said that after their first in-person meeting, things "got more and more intense," leading to the start of their official relationship.
Erik is currently serving a life sentence at the Pleasant Valley State Prison in California, where there is a strict no conjugal visit rule for inmates serving life sentences, but for Tammi, who he married in 1999, that doesn't matter.
Erik, along with his brother, Lyle, were convicted in 1996 of murdering their parents together and are currently serving life sentences in separate prisons. But that hasn't stopped them from both enjoying comforts from the outside world. And in Erik's case, that would be his wife Tammi and her daughter, both of whom now serve as his family on the outside.
According to Erik in an interview with People, his first contact with Tammi was in a letter she sent him, in which she'd described her husband's recent suicide and her pain. And part of that is what helped the couple grow closer.
I was nerve-wracked about meeting Tammi. Once I did, I knew right away that I could fall in love with her. I wanted as much from her as she could give emotionally. I knew I liked her too much. I didn't see Tammi falling in love with me. I remember that when I first met Tammi it was the most beautiful experience of my life.
The couple asserts that, despite Erik being behind bars, they remain close and are also "best friends." In fact, in 2005, Tammi even wrote a book titled, They Said We'd Never Make It: My Life With Erik Menendez, about their life together.
The murders at the hands of the Menendez Brothers will be visited once again as ABC airs its new documentary, Truth and Lies: The Menendez Brothers — American Sons, American Murderers, airing on Jan. 5.