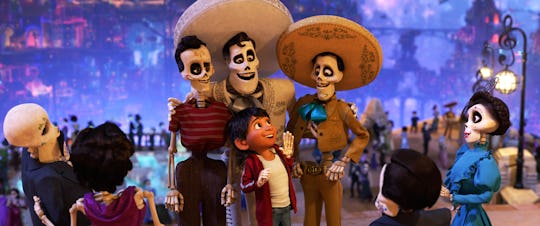 Disney•Pixar
Here's The Story Behind Ernesto De La Cruz's Character In 'Coco'
Coco, a new Pixar movie is making waves and inspiring people of all ages. Featuring a number of captivating characters, parents and children are likely already wondering who inspired their new favorite animated friends. You may be wondering if one character in particular, Ernesto De La Cruz is based on a real person. While he doesn't have a real-life namesake, he does have roots in reality.
Pixar's Coco is the tale of 12-year-old Miguel, a boy from Mexico who dreams of being a famous musician, despite his family's ban on music. Set on Día de los Muertos (Day of the Dead), Coco features several Mexican voice actors. Since debuting in Mexico on Oct. 27 — just in time for the 2017 Día de los Muertos — it has gone on to receive high praise and make Mexican box office history, earning $43 million after not even a full month in theaters, according to Fortune. One of the things that makes Coco so good is the close adherence to Mexican culture and customs. And making an authentically Mexican movie was one of the main goals behind Coco.
From the very beginning, director Lee Unkrich aimed to include as many members of the Latino community as possible. Unkrich told The Los Angeles Times that this was:
...so that at every turn we could have as much authenticity and as specific a voice as possible. Hopefully, it will never be tone deaf or lapse into cliche. Based on the reactions from the consultants who we've shown the film to already, we feel confident that we're doing a great job and doing right by the culture.
This "specific voice" translated to characters who jump off the screen and feel very real to the viewer. Ernesto de la Cruz, played by Benjamin Bratt, was inspired by a number of popular Mexican musicians Pedro Infante, Jorge Negrete and Vicente Fernández — two of whom actually make guest appearances in the film as skeletons. In an interview with ComingSoon.net, Bratt describes him as:
...[a] widely known as the most famous singer and musician in all of Mexico. He's dead now, and likely more popular in the land of the dead than he ever was in the land of the living, and he had international stardom before he met an untimely death. He's someone who is a larger-than-life person. He had natural magnetism and a whole lot of swagger.
Bratt explained that the filmmakers told him to watch videos of the musicians behind his character to get an idea of how to best embody de la Cruz. He told ComingSoon.net that these were people as well-known and loved as Frank Sinatra in their day, known for their talent both musically and on the silver screen. But Bratt reassured readers that de la Cruz isn't just a simple fame hoard:
So this is a guy who, within the story of the film, who thrives on the adulation and attention that he gets. He's a true star in that sense. Before we learn more about him and how complex he actually is, it's fun to kind of watch him run the room, if you will.
The authenticity of the characters and the film as a whole moved viewers at the film's premiere in Morelia, Mexico to tears. Unkrich told Variety that those watching the crew was mobbed:
...by so many people who were so emotional, many with tears in their eyes, thanking us for making this movie, for putting a positive vision of Mexico out to the world. That was the biggest thing: people were just so proud, they expressed to us that we had gotten it right, that we had made a respectful, accurate job.
There are a number of things to love about this movie, not least of which are the characters. With a 96 percent rating on Rotten Tomatoes and 9.2 stars on IMDb, Coco is shaping up to be the movie of the year. De la Cruz and his friends may not be real people, but I assure you that it won't feel that way.
Check out Romper's new video series, Romper's Doula Diaries:
Watch full episodes of Romper's Doula Diaries on Facebook Watch.