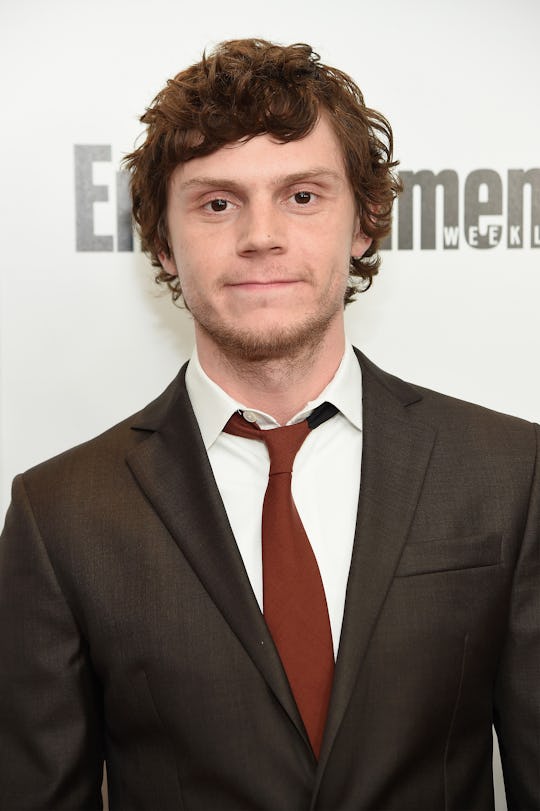 Jamie McCarthy/Getty Images Entertainment/Getty Images
Is Evan Peters In 'American Horror Story' Season 6? Fans Missed Him In The Premiere
The cast of American Horror Story, usually notably large, was uncharacteristically pared down in the first episode of Season 6. There were only three main characters (played by six different actors, of course) and an assortment of supporting roles, but the cast was kept small fairly small in the premiere. While this allowed the narrative to feel a little more straight-forward and a little less scattered, it still resulted in more than one beloved cast member missing in action. Lady Gaga was nowhere to be seen despite being confirmed for the season, and neither were others set to return like Matt Bomer and Finn Wittrock. But it was one missing actor in particular who had Twitter in something of an uproar: is Evan Peters even in American Horror Story Season 6?
Peters' name was listed in the show's credits, leaving fans bewildered when he didn't actually appear in the episode. He is definitely set to return, though the circumstances of that return are under wraps for now. Peters has been doing an admirable job of keeping quiet about the details, insisting in more than one interview that he really doesn't know what's going on with the season. He did reveal one small hint, however.
In an interview with The Wrap, Peters had noticeably different hair: instead of the usual dirty blond or brown, his hair was a muted red. Though he could only offer an "I don't know" to most Season 6 questions, he did admit that the hair was for the new season. "Uh, yes," he said. "I'm trying to figure out if I can say. Yes, I didn't do this to my hair." Though that does provide the smallest of clues about how he'll look in Season 6 (and presumably throws out the Charles Manson theory that had been floating around), it still doesn't really say anything about who he's playing or when he'll show up.
The lack of the details is par for the course, however. "It's a very secretive show, even when you're working on it," Peters told Issue. "They don't want details to get out and ruin the surprise." That's something he appreciates about the series, even though the surprise factor often extends to the cast too. If no one knows anything they can't spill anything, right?
Peters expressed excitement for the new series, anticipating how surprised everyone would be by it: "I'm very excited for people to be shocked and surprised by what this new season of American Horror Story holds. It's such a wild ride this time. I want to get a bunch of friends together to watch the first episode and see their jaws drop."
Hopefully Peters makes his first appearance soon – not just so we can all finally see who he's playing, but so his Twitter fans can take a breath.