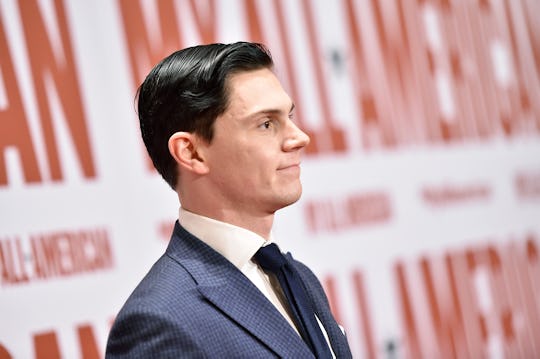 Mike Windle/Getty Images Entertainment/Getty Images
Is Evan Peters The Pig Man On 'AHS'? Fans Might Have Already Seen Him
Only a few episodes of American Horror Story Season 6 have aired, but fans are getting antsy for the arrival of Evan Peters. While he's been credited on episodes, he's still nowhere to be seen – unless, as some have speculated, he's been onscreen but unrecognizable. Peters has a history of playing bizarre characters on the show and his identity has been concealed for some of them, such as Season 1's Rubber Man. AHS: Roanoke has had its fair share of allusions to Murder House and having Peters play a disguised character could be just one more reference. There aren't many present-but-unseen characters to choose from this year, but one seems like a real possibility: is Evan Peters the Pig Man on AHS Season 6?
So far the Pig Man has been a terrifying apparition that has only been seen in quick flashes: roasting over a spit, or lurking behind Angela Bassett in the mirror. He has a connection to the colonists haunting the farmhouse, as their leader the Butcher (played by Kathy Bates) described him as a deserter and thief who was being punished for his actions. But what does any of this mean for Evan Peters? Without seeing his face, how can anyone know if he's the Pig Man? There are a few hints, but there isn't really a lot to go off of.
While the Pig Man's face is hidden, his body isn't; some detail-oriented fans seem to think this is enough to recognize Peters, noting that both he and the Pig Man share a similarly pointy shoulder. As far as evidence goes, that's pretty slim but it also doesn't rule out the possibility; there's no way of knowing that isn't Peters' shoulder, just like there's no definitive way of identifying that it is.
Peters also posted a picture of a pig head sculpture on Instagram that some are interpreting as a clue about his role on this year of AHS. Though the caption of the picture had no connection to the series, it is a pretty random coincidence. While it could just be a little nod to the pig theme of Season 6 – there have been a lot of creepy pig corpses this year, not to mention the feral hillbilly children feeding from a large pig in Episode 3 – Peters is surely aware of all the speculating going on. Then again, maybe the pig picture was intended to mislead and Peters isn't the Pig Man at all.
It seems obvious that the Pig Man is going to play a big part in this season; he's been showing up too often not to have greater significance later on. That, combined with the fact that Peters has been credited but not shown, definitely lends credence to the idea that the Pig Man could be played by him. It may not be certain, but it is possible.