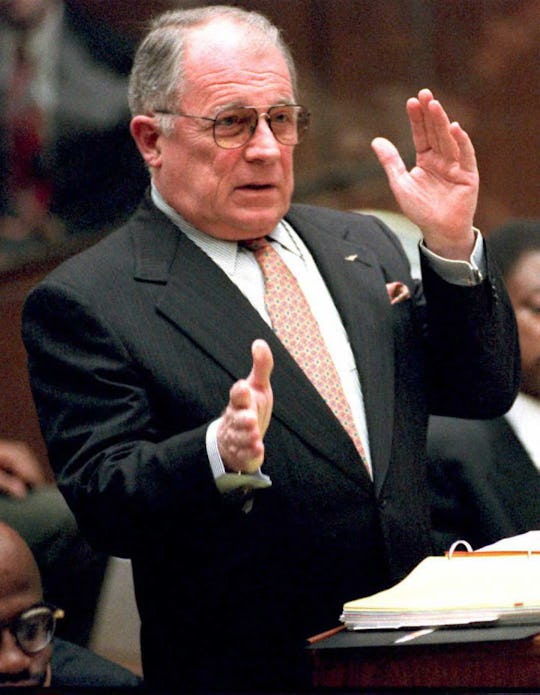 POOL/AFP/Getty Images
Is F. Lee Bailey Still A Lawyer? 'The People V. O.J. Simpson' Lawyer Is No Longer Practicing
There were many key players in the O.J. Simpson trial that eventually led to Simpson receiving a not guilty verdict. Many of them continued to practice law after the trial. One person who is no longer in that situation is F. Lee Bailey, who joined the defense team for one of the most well-known trials of all time. Bailey became a household name from the trial — although he had a lot of success prior —, much like his counterparts, but it didn't last forever. F. Lee Bailey is actually no longer a lawyer, and the reason itself is certainly interesting.
According to the ABA Journal, Bailey had a very successful career while it lasted. He represented Sam Sheppard, an Ohio doctor who was convicted for murdering his wife in 1954. As the lead attorney in the appeal, Bailey turned the verdict around to not guilty after arguing (in front of the U.S. Supreme Court nonetheless) that Sheppard had been denied due process at the first trial.
Obviously, Bailey's role in the O.J. Simpson case was just as well-known. As fans saw on The People v. O.J. Simpson, Bailey's cross-examination of Mark Fuhrman proved to be one of the most pivotal moments of the entire trial.
Then, things changed a bit for F. Lee Bailey.
In 2001, Bailey was banned from practicing law in Florida, ordered by the state Supreme Court, according to CBS News. The site reports that he was disbarred for "the way he handled 600,000 shares of stock owned by a former client now serving a life sentence in a federal prison for drug smuggling."
CBS News reports that Bailey said, at the time, that he initially took control of the stock "as payment for his services." The federal prosecutors did not agree with this claim, noting that his control over the stock was by no means a permanent situation; he was only given control "for limited purposes and a limited period." He eventually relinquished control of the stock, according to CBS News. The ABA Journal notes that after his disbarment in Florida, he was also disbarred in the state and federal courts of Massachusetts.
But that's not all. According to the New York Times, Bailey relocated to Maine where he passed the bar exam in the winter of 2012. Unfortunately, Bailey was denied his license after the "Maine Board of Bar Examiners wrote that Mr. Bailey had not demonstrated by 'clear and convincing evidence that he possesses the requisite honesty and integrity' to practice law in Maine," as reported by the Times.
So, if he's not practicing law, what is F. Lee Bailey up to? He's been busy, that's for sure. He is currently a partner at Bailey & Elliot Consulting, a firm that deals with business advice, mediation, investigation, among other things thanks to Bailey and his business partner's expertise. So, while he's not practicing anymore, he certainly had a long career of high profile cases some lawyers can only dream of working on. It might be time he took a break.