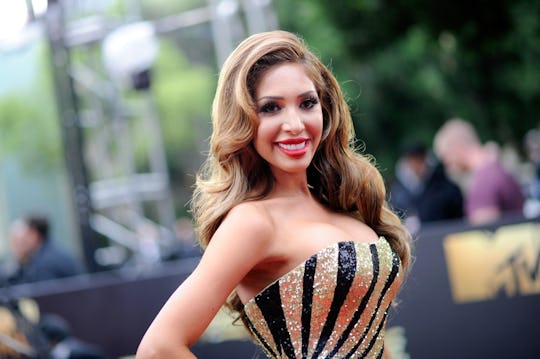 Emma McIntyre/Getty Images Entertainment/Getty Images
Here's Why Farrah Abraham *May* Be Leaving 'Teen Mom OG'
When it comes to Farah Abraham's career, things have been really confusing lately. Now, after saying that she wasn't being fired last month, it looks like Farrah Abraham could be leaving Teen Mom OG after all. ICYMI, in early November, Abraham went on a social media rant about MTV's parent company, Viacom, firing her because she worked in the adult film industry. She then took back her statement, saying that the company's legal team hadn't terminated her after all, according to People. Romper's request for comment from Viacom was not immediately returned.
But the plot thickened, as it always does with Teen Mom. Later in November, a teaser for Teen Mom OG showed the 26-year-old sitting down with a male crew member and being told that they couldn't film her if she continued working on adult films, as People reported.
"Who are you to tell someone to choose one thing? F*cking shoot me for being who I am!" Abraham says in the clip. Although things appeared to be resolved in November, it looks like Abraham is still considering her options and leaning towards leaving the show. In an interview with Us Weekly this week, she said, "Right now I know I am making the right choices and I am here to finish up the filming of the season and I feel I have done the best I can do in good faith and not lose my work ethic."
She added in the same interview, "So it is truly a sad case and a shame they have chosen to fire me and [they only care about a] story line and that is really sad for the show. In the meantime, I am not letting it affect my personal life, which it has been." Although Viacom hasn't commented publicly on her statement to Us Weekly, at this point it might be better for everyone, especially if Abraham feels like she's not being represented properly. It is a reality show, after all, right?
Earlier this month, Abraham seemed to be starting to pull away from the show when she said that her daughter would no longer be filming Teen Mom OG with her. In an interview with In Touch Weekly, she said:
I will say Sophia is not going to continue to be on Teen Mom. Sophia is not going to continue to talk about sex and unplanned pregnancies and all that stuff — so she'll go on to do something better and hopefully she'll be doing makeup brands or clothing.
However, this week, Abraham said that her words were taken out of context, telling Us Weekly:
I think that was something that got mixed or confused, because I don't believe I have ever said that [Sophia would stop filming]. The main reason I was on the show in the first place was because of my daughter. She was born onto the show, so I always wanted her to be on there.
Last year, Abraham came under fire on social media for posting pictures of her daughter in a bikini on Instagram, so really the reality TV star can't win. She takes her daughter out of the spotlight and she's in trouble, she puts her front and center, she's a "bad mom."
Abraham told Us Weekly, that she's looking forward to 2018 and using all the lessons she learned from the Teen Mom OG experience going forward. "I have just learned so much from being a young teen mom and getting out of those struggles and all of those hard times," she told the publication.
If she really is moving on from MTV, Abraham made it very clear that she wasn't giving up on TV. In fact, she just wants to work with other networks and get involved in all the more projects.
It'll be sad to see Abraham leave Teen Mom OG if that ultimately happens, but don't throw her a farewell party just yet. Nothing's official until both MTV and Abraham have confirmed the news and they seem to be having trouble getting on the same page these days.
Check out Romper's new video series, Romper's Doula Diaries:
Watch full episodes of Romper's Doula Diaries on Facebook Watch.