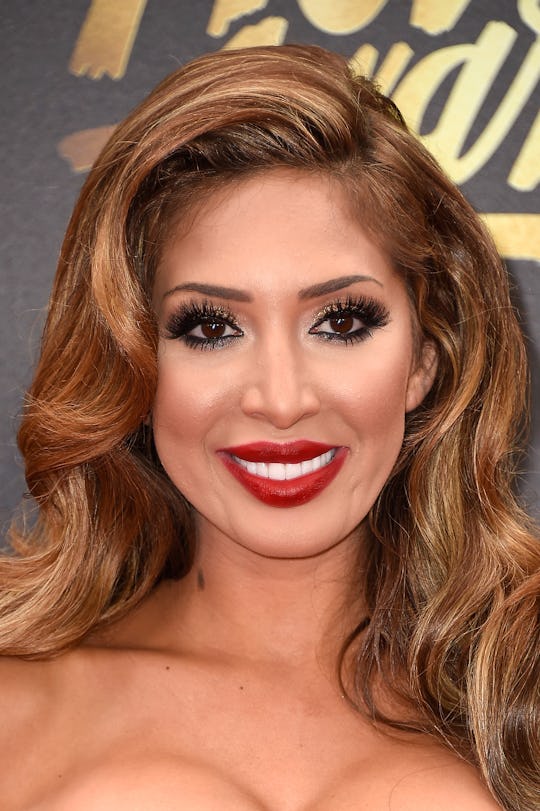 Frazer Harrison/Getty Images Entertainment/Getty Images
Is Farrah Abraham Single? She's Been On & Off With Simon Saran For Years
Teen Mom OG star Farrah Abraham has always been fairly open about her dating life, and the 25-year-old reality TV personality has had her share of rocky relationships. Now that we're into Season 6 of Teen Mom OG, however, many viewers find themselves wondering: is Farrah Abraham single? After all, during the show's season premiere this past August, her relationship with on-again, off-again boyfriend Simon Saran seemed like it could be teetering on the verge of its demise.
While Saran and Abraham's relationship will continue to play out during Season 6 of Teen Mom OG, Abraham confirmed to Us Weekly in August that things were over between her and her ex-boyfriend. "I don't know if Simon and I really have the same outlook on life, and I think that is [not] a really good fit," Abraham told the magazine in late August. She went on to explain her reasons for breaking it off, saying:
[There are] some other things in Simon that really hurt and frustrate me. So I don't know if we are really connected. You spend so much time with someone, and it is not as close as you thought it was. And as a mom, [his behavior] is really hurtful, and I worked through that.
Confirming her split from Saran, Abraham was seen on Million Dollar Matchmaker in July, where she met a lovely man named Ryan, according to Us Weekly. However, by August, she was telling the magazine that she was dating casually — so either her relationship with Ryan didn't progress into something more serious, or the pair called it quits.
"I mean I have been through a lot of sh*t relationships, so I just add another layer to my cake, really," Abraham said, speaking of her split from Saran. "I would say I casually date, no one serious, but I really have to focus a bunch on my businesses. I make sure to stay busy for a reason because if I don't, I will get into trouble."
In September, however, an International Business Times article referred to Saran as Abraham's boyfriend, and he told Radar Online that dating Abraham is quite the interesting experience. "It's definitely an adventure," he told Radar. "Some really good moments and some really awful moments. But that's what keeps it interesting." He didn't, however, confirm whether the two were still dating.
Regardless of her relationship status, Abraham has been busy enough — she recently opened up her own frozen yogurt shop in Austin, Texas, called Froco, and she plans two open up not one, but two more businesses later this year. According to The Statesman, she's aiming to launch her own furniture store, Furnished By Farrah, and a children's store named after her daughter, Sophia Laurent Children's Boutique.
With that much on her entrepreneurial plate, it's amazing that Abraham is managing to fit dating in at all! As for how things turn out with Saran, viewers will just have to tune into Teen Mom OG and see.