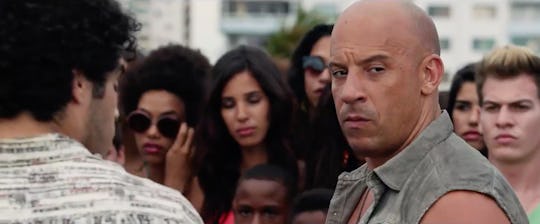 Is 'Fate Of The Furious' The Final 'Fast & The Furious' Film? The Trailer Is Intense
The trailer has just dropped for Fate of the Furious, and it's a lot like X-Men when Jean Grey's character turns evil. To see what I mean, all you have to do is replace Jean with Dom (Vin Diesel), and mutant powers with expensive cars. Dom goes rogue for reasons untold (my guess is to save his loved ones), and his gang must try their best to get the head of their family back. This film marks the first Furious movie without Paul Walker, who died tragically in 2013. Without Walker, I wondered if the Fate of the Furious would be the final Fast and the Furious film.
Thankfully, Vin Diesel has confirmed that there is still much more Fast and the Furious to come. The star even Instagrammed a photo with film release dates to help Furious fans breathe easier. Apparently, there will be a Furious 9 and 10 racing into theaters in 2019 and 2021. God, I'm starting to feel old. It comes as no surprise that directors would want to keep the saga's engine running for a few more years. According to USA Today, "the latest installment in the franchise, Furious 7, made a whopping $1.515 billion at the global box office in 2015," that's some serious profit for an action movie about cars that go vroom.
We've already seen Toretto, a.k.a., Dom, aid his girlfriend (Michelle Rodriguez) in regaining her memory in Furious 7, but it will be cool to see the scripts flip here. She's such a strong-willed badass, that I'm sure nothing could keep her from her guy, not even him. Their love is unbreakable, and gets the green light from fans. Not even brain damage could keep the pair apart, so I doubt that blonde control-freak in the trailer could either.
Regardless, one thing is for sure: no matter what happens, we can expect to see speed, explosions, action, and booty... in addition to some snow. Last time the crew got a tan in Abu Dhabi in Furious 7, and it looks like this time we'll catch them bundled up in the arctic. Watch the trailer below, and fasten your seat-belts for it's release April 14.