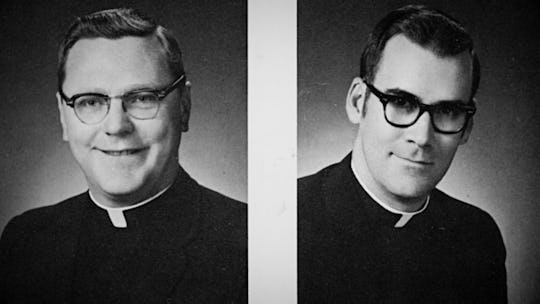 Courtesy of Netflix
'The Keepers' Explores Father Maskell's Life With The Church
Netflix's new true crime series The Keepers tells a harrowing story that delves into two separate crimes and their possible connection. The first was the 1969 murder of Sister Cathy Cesnik, a nun and teacher at the Archbishop Keough High School in Baltimore. The second was the recurring alleged sexual abuse of numerous girls at Keough by school chaplain and counselor Father Joseph Maskell. Decades after Cesnik's disappearance and death, a link between the two events formed: one, students had confided in Cesnik about the abuse they were suffering at school, and two, Cesnik might have had plans to confront Maskell before she was killed. Maskell became a suspect in her murder, though he was never arrested, charged, or even questioned all too closely, but he does play a huge part in the Netflix series. So, is Father Maskell still alive?
As it turns out, Maskell passed away in 2001 without facing legal charges for any crimes, as he maintained his innocence throughout his life. The abuse allegedly continued into the '70s, but it was years before it came to light publicly. The first abuse allegations were made against Maskell in 1992, after which he was removed from his priestly duties, though he went on to become the paster of the Holy Cross Church. But after one woman came forward, more and more people followed suit. In 1994, Maskell quit his parish to seek therapy before deciding to flee the country. He lived in Ireland for some time and eventually died in 2001.
Maskell's body was recently exhumed in an effort to obtain DNA to see if there was any connection to Cesnik's murder. Much like the allegations of abuse, it took years for Maskell to be linked to Cesnik's death, and there is still, to this day, no legal decision if there is a link. One of the women who accused Maskell of abuse alleged that he had taken her to see Cesnik's dead body before it was officially discovered to threaten her into keeping quiet, as seen in the Netflix series. However, that did not result in an arrest, as she didn't present her story to the police until years later.
Though Maskell denied his guilt and the statute of limitation had run out on the abuse charges, the Baltimore archdiocese did settle with 13 women last November, offering them monetary compensation and payment for counseling. It's far from a satisfactory outcome considering what Maskell was accused of doing, but at least now the crimes are no longer hidden.