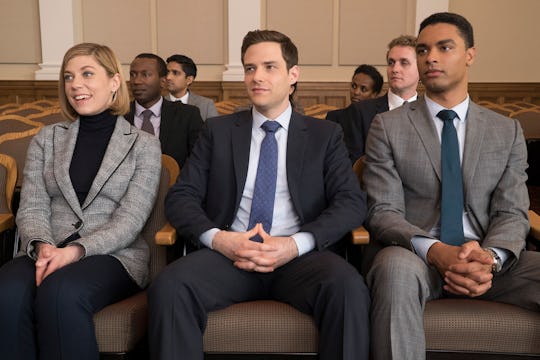 Eric McCandless/ABC
Is 'For The People' Based On A True Story? This Legal Drama Is Your Next New Obsession
I'll be honest, the only thing I love more than a good police procedural is a good lawyer drama, which is why I'm excited about the new show, For The People, coming to ABC this week. But is For the People based on a true story? It's not based on real life events, but you will probably find at least the premise of the show to feel extremely familiar. This show is about a group of young (obviously attractive) lawyers living in New York and trying to impress their bosses and basically rule the world. And yes, it is a Shonda Rhimes series.
If you're a fan of Shondaland shows, then chances are you're excited to see this new legal procedural coming to ABC. And you'll also know that you should expect soapy drama, steamy hookups, and absolutely over-the-top plot lines that have probably never happened to anyone ever. That doesn't mean they aren't fun to watch, though. For the People joins Grey's Anatomy, Scandal, and How to Get Away with Murder, on ABC's prestigious line-up of Shonda Rhimes masterpieces. This means that it's basically already got a built-in audience. And we're sure to get at least one or two good female-driven narratives for everyone to obsess over the next day at work.
One of the many things I love about Rhimes is that she's not a "based on a true story" kind of writer. Her over-the-top plots and unbelievably capable characters all come entirely out of her own brain. Because come on, there's no way that Olivia Pope or Annaliese Keating could be real people. Those are superheroes with better wardrobes. So I'd be incredibly surprised if For the People was based on a real life group of young lawyers who are inexplicably responsible for high stakes life-and-death type cases.
The official description of the show reads:
Set in the United States District Court for the Southern District of New York (a.k.a. "The Mother Court"), the new Shondaland series show follows six talented young lawyers working on opposite sides of the law and handling the most high-profile and high-stakes federal cases in the country. These young lawyers will be put to the test both personally and professionally as their lives intersect in and out of America's most prestigious trial court.
So basically get ready to see some highly unprofessional relationships develop in some very exciting and unexpected ways. But you better believe it's going to become your next new obsession.
While there are certainly groups of young lawyers who exist in high profile jobs in New York City, the ones in this show were not based on any specific people. Personally I think this is a good thing, since real people are rarely as entertaining as fictional characters — especially when those characters were brought to life by Rhimes. There's no doubt that this show is going to be lots of fun, though. The real doubt is whether or not it will be good enough to take the place of the beloved Scandal, which is on its last season.
If For the People is lucky, then it will become like Grey's Anatomy, and continue to air for over a dozen seasons and counting. I guess we'll just have to wait and see if these young lawyers are tough enough to pass muster with Shondaland's most fervent fans. If the show is anything like its predecessors, though, then it will have no problem keeping everyone entertained for many years to come.
Check out Romper's new video series, Romper's Doula Diaries:
Watch full episodes of Romper's Doula Diaries on Facebook Watch.