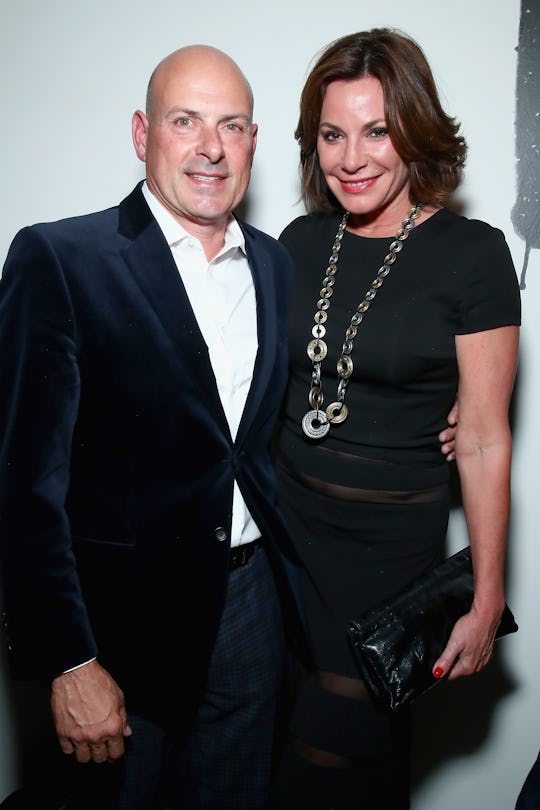 Astrid Stawiarz/Getty Images Entertainment/Getty Images
Rumor Has It Tom D'Agostino Is Dating Again
Luann de Lesseps and Tom D'Agostino's whirlwind relationship was a big part of The Real Housewives of New York Season 9, but Season 10 has focused more on the fallout from their divorce. Luann has been trying to move on, though it hasn't been easy for her. But Tom himself hasn't appeared, which may leave some viewers curious about what he's been doing since the split. Is Tom D'Agostino dating again, or is he enjoying being single like Luann is?
It seems as though Tom never stopped dating. Us Weekly reported that he was going out with women casually even while he and Luann were in the middle of separating. An anonymous source revealed to the publication, "Tom has been seeing a few of the women in his life, including [ex] Missy [Tool], but hasn't rebounded with anyone in particular yet."
Ramona Singer confirmed as much to Us Weekly, though she didn't name names. She seemed encouraging of both Luann and Tom moving on, even though they might have different ways of going about it. "You know what? They're both great people and if that makes him happy, let him do what he wants to do," Ramona said. "He's now a single man. Life goes on, right?"
That wasn't all Ramona had to say about Tom's penchant for dating lots of different women without being particularly serious about anyone. During an interview with E! News, she offered:
Listen, Tom loves to date! He's the dating king. I mean, when he was dating Luann, he was dating me, he was dating Sonja, he was dating five other girls as far as I know.
Tom has been linked to Missy Tool, who has appeared on RHONY before, but a source informed People that they were just friends. They had dated in the past, but were no longer involved with one another. However, it seems like Tom's continued friendships with ex-girlfriends was one of the issues Luann had during their marriage. She told People:
Getting caught in the press going out and meeting with ex-girlfriends, that caused a lot of fights to go on. He ended up calling an ex-girlfriend to see where they were [one night after we came back from a dinner party]. And that's when I said to myself, 'This is the last straw. This is really the last straw.'
But on RHONY Luann made it clear that she never had a problem with the women Tom was seeing — just the fact that he was seeing them at all.
Tom has also been spotted with Anna Rothschild, with whom he's been friends for fifteen years. There were even rumors that they might be engaged. However, Rothschild denied it to DailyMail.com, explaining that the flashy ring she'd recently been sporting was just a gift. She didn't totally dismiss the possibility, though, adding:
I would love to marry him because he's such a great guy, maybe one of the most amazing men I've ever met, but the timing isn't right for us at the moment.
It doesn't look like Tom himself has addressed any of the dating rumors, but plenty of outside sources have verified that he's making the most of his single life. Whether he'll ever be taking another trip down the aisle remains to be seen, but Rothschild seems to think it's a possibility. Until then, it appears to be business as usual for Tom. Many of the RHONY ladies, Ramona and Sonja included, have talked at length about how much Tom enjoys dating, so it seems like he's back in his element. He's moving on just like Luann is trying to.