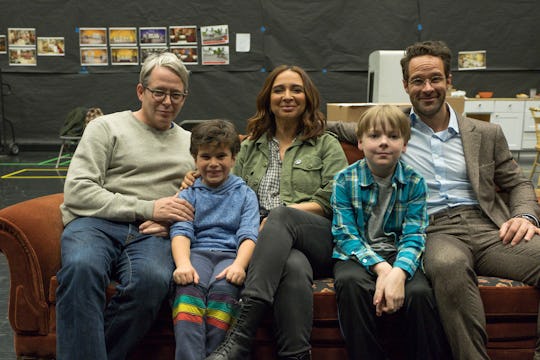 John P. Fleenor/FOX
Is FOX's 'A Christmas Story' Really Live? You Won't Be Disappointed
Benj Pasek and Justin Paul, the composers responsible for smash-hit Broadway musical Dear Evan Hansen and the film La La Land are taking their success to TV this year. Back in 2013, they penned a musical adaptation of 1983 holiday classic A Christmas Story, which had a short-lived run on Broadway. FOX snagged the project for their annual live musical telecast of the holiday season, which may leave viewers wondering: is FOX's A Christmas Story really live? Although the musical will be adapted for television, and Pasek and Paul will be adding several brand new songs to the score, yes! The musical will be performed and air live on FOX.
Matthew Broderick stars as Adult Ralphie, who narrates the story, in the role famously originated by Jean Shepherd whose short stories served as inspiration for the film. Marc Platt and Adam Siegel, the team behind FOX's Grease: Live, which infamously shut Beyoncé's Lemonade out of an Emmy last year, are back to executive produce the project. Also starring alongside Broderick are the likes of Maya Rudolph and Chris Diamantopoulos, who play Ralphie's parents Mother and Old Man Parker. Jane Krakowski plays Ralphie's teacher Miss Shields and Ana Gasteyer plays the mom of Ralphie's friend Schwartz.
Obviously, the project has drawn a seasoned cast, but what about young Ralphie, the little boy at the center of the story who was so memorable played by Peter Billingsley in the film? FOX performed a digital casting search and found 11-year-old Andy Walken from Seattle, WA to play the role. He has a few small TV movie parts under his belt and he once did an episode of NCIS, but starring in A Christmas Story Live! is poised to be Walken's breakout role.
The original film was adapted from the short stories of Shepherd's 1966 book In God We Trust: All Others Pay Cash, and borrowed from his 1971 book Wanda Hickey's Night of Golden Memories as well. The anecdotes are semi-autobiographical and, strung together, they make up the story told by the narrator, Adult Ralphie, of his favorite childhood Christmas. While the story's time period is never made clear in the film, Shepherd and the film's director Bob Clark have given a ballpark time frame of late-1930s/early 1940s, giving the film its nostalgic period vibe.
The movie has cemented itself in American culture thanks largely to the fact that every year since 1997, either TBS or TNT airs the film on a 24-hour loop over Christmas Eve and Christmas Day. So while most people have probably flipped the TV on in a post-Christmas turkey haze to catch some portion of the film a dozen times in their lives, very few people I know have actually sat through the entire thing, start-to-finish, since childhood.
The film was never exactly regarded as a prestigious piece of cinema, but in 2012, the Library of Congress chose to preserve it in the National Film Registry for being "culturally, historically, or aesthetically significant." Its midwestern setting of northwest Indiana has become iconic to the story, and the house which gave us the exterior shots of the Parkers' home in Cleveland, Ohio has been preserved to match the house in the film. It is now open to the public as a museum known as A Christmas Story House.
Reviving the musical adaptation (which, much like the film, didn't garner a ton of prestige) as a televised broadcast with a reliable cast of musical theater veterans is still a gamble. It'll either be just the update the musical needs to become a classic, or it'll suffer such a massacre via Twitter that FOX will lock it in a vault forever.
Check out Romper's new video series, Romper's Doula Diaries:
Watch full episodes of Romper's Doula Diaries on Facebook Watch.