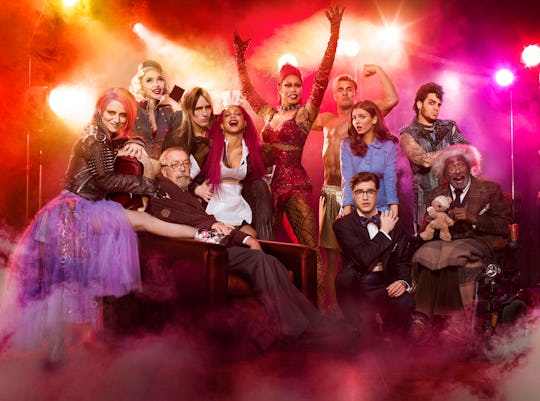 Miranda Penn Turin/FOX
Is FOX's 'Rocky Horror' True To The Movie? It's A Tribute To The Original
Remaking an iconic film is always going to be a tricky proposition, and that goes double for a cult classic like The Rocky Horror Picture Show. Though there's a built-in audience with a project like this, their response can be hard to gauge ahead of time; fans are just as likely to adore the remake as they are to criticize it for being either too similar or not similar enough. Honoring the original while producing something new is a fine line to walk, so it seems obvious that fans are going to be a little apprehensive about seeing a beloved classic reimagined for the small screen. So how close will the remake hew to the original film? Is FOX's Rocky Horror true to the movie?
There are major differences between the two films, but the FOX adaptation promises to honor the fans first and foremost. The remake has the same script and the same story, as well as returning cast and crew in the form of Tim Curry (now playing the Criminologist) and executive producer Lou Adler. Though it will pay homage to the original film, the remake will also be reinvented for a new audience with some tweaks to make it more contemporary. Everyone involved seems to have a real love for the original film, but promises are one thing. Will it deliver?
Director Kenny Ortega made assurances that everyone behind the scenes wanted to do things right. "It's not like we're a bunch of outsiders," he said in a New York Times interview. "It's people who have a great love affair with this project, and we're coming at it with great sensitivity, care, and appreciation for all that it's meant." Though there are nods to the original, the new version is still intended to stand on its own. Ben Vereen, who plays Dr. Scott, has categorized it at the Television Critics Association press tour as more of a tribute than a remake.
One major difference between the original and the FOX version is that audience participation has been worked into the film. Part of what made the original such a cult experience was having it play in midnight showings where super-fans could come dressed in costume and participate in the film they loved so much, whether it was throwing rice at the wedding or shouting insults every time Brad stepped onscreen. Things like that really strengthened the very personal relationship some fans have cultivated with the film, so seeing it incorporated into the remake should be interesting.
Another difference is that the role of Dr. Frank-N-Furter will be played by a woman. Though originated by Tim Curry, Laverne Cox is stepping into Frank's four inch heels in the revival. It was a dream role for her because the film made such an impact on her when she first saw it. However, the casting choice left some uneasy, but not because anyone doubted Cox's talent; there was some worry that casting a transgender woman as a character who was a self-professed transvestite might seem as though it were making a joke of her identity. The FOX version has been adjusted because of that, so Frank-N-Furter will be a trans woman as well. "I certainly don't identify as a transvestite, and that word should never be used to describe me," Cox said to The New York Times. "But as an actress, I play a lot of things that I don't necessarily identify as."
The aesthetics of the film will be another change from the original. A great deal of Rocky Horror's appeal was in its low-budget look, which both reflected the B movies that inspired it and lent itself well to the homemade costumes that sprung up in its fandom. The remake will be more sleek and precise, providing another distancing factor from the original film. Whether it will maintain the same edgy, subversive spirit remains to be seen, though it is clear that the people working on it have a lot of love for the project.