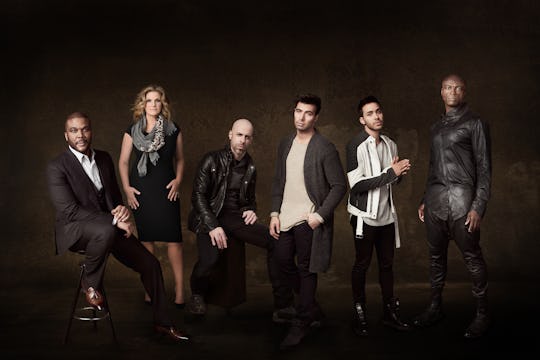 Michael Becker/FOX
Is Fox's 'The Passion' Safe For Kids To Watch? It Won't Be A Lighthearted Musical
It feels oddly retro, but the new trend of live TV musicals doesn't seem to be slowing down. Following NBC's lackluster offers this year, Fox premiered Grease: Live in January, and it went over surprisingly well. Now, just in time for Easter, Fox is putting on another live musical, and this one's a doozy: the story of the last days of Jesus Christ, set in modern-day New Orleans, complete with pop music. When people hear "Bible" and "musical," they tend to think "family-friendly," which might make viewers think that The Passion is safe for kids to watch.
The program is rated TV-PG, the rating used to signify "some suggestive dialogue, infrequent coarse language, some sexual situations, or moderate violence" (I'm betting it's the last one that drew that rating). For those unfamiliar with the story, it's referred to as Jesus' last days for a reason: this is the one where he gets killed. Presumably a TV musical won't feature the brutal violence seen in Mel Gibson's 2004 movie The Passion of Christ, but it's still, at its core, a story of a man being tortured to death, so parents might want to DVR it and screen it after the kids go to bed, lest they be taken aback by a surprise whipping scene.
As for the cross itself, it's doubtful that the cast will employ special effects to "nail" actor Jencarlos Canela to it; Entertainment Weekly reported that the cross is 120 feet long and it lights up. According to a Fox press release, a crowd of hundreds will carry the cross through the city, starting outside the Superdome and ending at a stage in Woldenburg Park.
What might actually be the scariest part of the musical is the soundtrack, though. We're not talking about traditional hymns or even Broadway-style music, here. The special will feature the cast singing comtemporary songs by Christian rockers Evanescence and Creed, as well as other parent-approved bands like Train and Hoobastank. Personally, I'm most curious about Trisha Yearwood's take on Whitney Houston's "My Love Is Your Love" and Seal's cover of Tears For Fears' "Mad World" (I'm guessing his version is closer to the Gary Jules cover popularized in Donnie Darko, which would still be kind of odd, honestly).
Based on the Hoobastank and the possibility of a crown of thorns, this may not be the special to roll the dice on, as far as children are concerned. It might be best for parents to hold off until The Passion has been thoroughly vetted and then catch it on demand. Failing that, there's always It's the Easter Beagle, Charlie Brown.