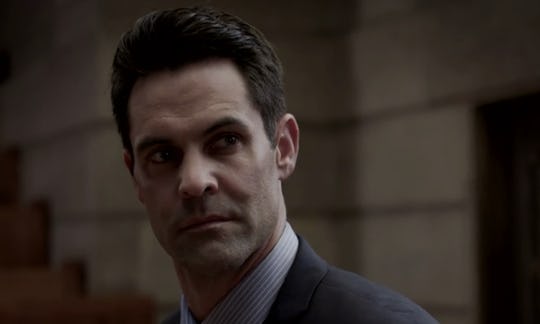 Lifetime
This New Lifetime Movie Will Leave You On The Edge Of Your Seat
Lifetime movies are kind of a genre in their own right. Filled with drama, camp, and generally just the most outlandish situations a human being could ever find themselves in, you can't help but tip your hat to the genius that came up with the plot. Except sometimes the plot is based on something that really happened. With that in mind, is Framed by my Fiancé based on a true story? I don't want to say that this has never happened to anyone, but this is one plot that is pure invention. Which, all things considered, is a pretty good thing. I'd hate to think that this was anyone's actual life story.
The movie begins with a happy, attractive couple named Daniel and Jenny who have just gotten engaged. Daniel is an up-and-coming lawyer. Jenny is happy in her career as a nurse. Everything is going swimmingly until they get into a car crash, killing the other driver. Daniel was driving when they got into the crash, but in order to save his career, he shifts Jenny into the driver's seat so that she's the one who gets charged with manslaughter while Daniel gets off scot-free. It eventually becomes even clearer that Daniel is the worst, as he goes on to prove that he will stop at nothing to make sure he doesn't get caught. Jenny girl, you are better off without this guy.
In an interview with Starry Mag, one of the stars of the movie, Jason-Shane Scott describes how his character develops and eventually reveals his true colors. "He basically puts himself over their relationship and it sort of untangles," Scott explained. "Then, we find out he is more than selfish – he's also kind of evil and murderous. We go from framing his fiancé to actually having to kill people in order to still get what he wants. It takes a pretty sharp turn from happy couple to not so happy." Yikes! Though if this was a true crime drama, I have to admit I would be riveted.
The movie was written by Stephen Lyons, who has also written other Lifetime movies including A Mother's Crime and Dying to be Loved. Someone please tell me how I can get a job writing Lifetime movies because I feel like I would be excellent in this capacity. Framed by my Fiancé was directed by Fred Olen Ray, a truly prolific director whose IMDB page has a staggering 151 credits, many of which are for other Lifetime movies such as A Mother's Revenge (not be confused with A Mother's Crime). So he knows his way around a made-for-TV thriller movie set. I have extremely high hopes for this movie.
Though the story is not based on an actual account, there are plenty of real life framing stories that may have served as some inspiration for the movie's plot. For example, back in 2012, a man was convicted in New York for framing his ex-girlfriend for armed robbery. There is no evidence that this incident, or any other incident of framing like it, directly influenced the plot of this particular Lifetime movie, but you never know exactly where the plot of these things comes from.
Framed by my Fiancé premieres on Friday, Nov. 24 at 8 p.m. EST. In my opinion, a Lifetime thriller with a glass of wine is the perfect way to wind down after a busy Thanksgiving with family. Hopefully your family is a little less complicated and murderous than the one in the movie.
Check out Romper's new video series, Romper's Doula Diaries:
Watch full episodes of Romper's Doula Diaries on Facebook Watch.