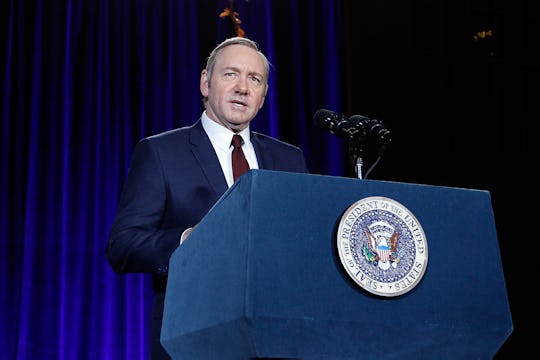 Paul Morigi/Getty Images Entertainment/Getty Images
Is Frank Underwood A Democrat Or A Republican? He's Facing Reelection Solo
Francis Underwood, the main character played by Kevin Spacey on Netflix's blockbuster and OG binge watch guilty pleasure, House of Cards, is many things. He's ruthless, scary, cunning, and often charming. His Southern accent comes and goes, his wife is ice queen perfection, and he enjoys a round of video games after a long day of political plotting, planning, and scheming. But the driving force of Underwood's personality is his singular commitment to his own success — by any means necessary. It's why fans have loved to watch him in action, from the time he was passed over for the Secretary of State nomination in the HOC first season to his slow climb up the ladder to the grand daddy position of them all, President of the United States. It's easy to forget that he's supposed to be a leader of a political party. So is Frank Underwood a Democrat or Republican?
We first meet Underwood as the enormously powerful House Majority Whip for the Democrats. Yep. Underwood is a Dem, elected from South Carolina, hence the dodgy accent. The character was created by Beau Willimon, who adapted House of Cards from a British show. He could have just as easily make Underwood a Republican. But there's something delicious about someone as bereft of a moral compass belonging to the Democratic party. Republicans have been portrayed as the evil villains for so long in Hollywood (West Wing was probably the most obvious at this) that it's refreshing to see deep Washington D.C. cynicism applied to the Dems in equal measure.
Regardless of party affiliation, a portrait of Underwood now hangs in the Smithsonian. Pretty great.
As we begin this fourth season of HOC, Underwood is a sitting Democratic president facing being abandoned by his most valuable political asset, his wife Claire, played by Robin Wright, who is so smart and cunning you can't help but wonder if the wrong spouse is sitting in the Oval Office. It will be fascinating to see if those two ultimate power players can exist on their own, or if they need each other as a source of strength and power. The two obviously have so many secrets on each other — from lies about abortions to the cold blooded murder of reporter Zoe Barnes — it's hard to imagine either one being able to walk away clean.
For now, Underwood in House of Cards is serving as a Democratic president with little loyalty to his home party. We'll have to wait and see how things wind up at the end of Season 4, but could a surprise party switch really be that big of a stretch? Not for Frank.