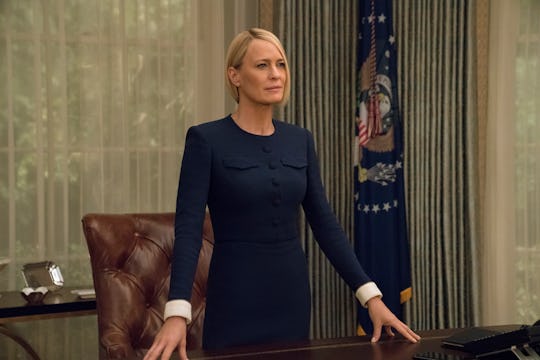 David Giesbrecht/Netflix
Claire Underwood Is Mourning Frank's Death On Season 6 Of 'House of Cards'
Fans have been anxiously awaiting the return to the Underwood reign on House of Cards, but in the final season of the series, they'll see Claire Underwood taking charge of the Oval Office. A trailer for Season 6 shows Claire mourning her husband's death, but because the series was originally based around his character, you might be wondering if Frank Underwood is really dead on House of Cards.
From all indications, Frank Underwood's (Kevin Spacey) character is dead on the new season of House of Cards, but fans won't know how he died until the new season begins. In a promotional clip on the show's Twitter page, fans can see Claire Underwood (Robin Wright) standing in front of Frank grave, which is right next to his father's. She talks to the camera and ironically repeats Frank's dialogue from Season 3 when he urinated on his dad's grave. "I'll tell you this, though, Francis: When I die, they won't bury me in my backyard, and when they come to pay their respects, they'll have to wait in line," she says. When the camera pans back you can see Frank's headstone, which reads: "Frank Underwood, 1959-2017. 46th President of the United States."
It isn't common for a series to kill off its main character, but after the sexual assault allegations against Spacey came to light, Netflix decided it was time to end their relationship with the actor.
According to The Hollywood Reporter, when Star Trek actor Anthony Rapp accused Spacey of sexual assault, the streamer halted production of House of Cards and severed all ties with him. "Netflix will not be involved with any further production of House of Cards that includes Kevin Spacey," Netflix said in a statement. Media Rights Capital (MRC), the studio behind the series, also issued a statement disclosing their decision to cut ties with the actor reported THR. "While we continue the ongoing investigation into the serious allegations concerning Kevin Spacey's behavior on the set of House of Cards, he has been suspended, effective immediately," the company wrote.
According to Variety, Netflix and MRC eventually decided to renew the show for a final season, but planned to do it without Spacey. Netflix chief content officer, Ted Sarandos, told the outlet that the network was "excited about bringing some closure to the show for fans," and that they were gratified to be able to save the jobs of the 2000 people working on the show in Baltimore.
When fans last saw Frank in Season 5, he, along with Doug (Michael Kelley), was facing charges for the murders of Zoe Barnes and Rep. Peter Russo. He reluctantly resigned and handed his presidency over to Claire, who had just become his Vice President. When she holds one of her first press conferences as President, Frank tells her to announce that she is pardoning him and Doug, but she doesn't. He calls her after watching the conference on TV, but she rejects his call, and turns to the camera to declare, "My turn."
But there are a few personal demons Claire will have to face in Season 6. At the end of Season 5, after finding out that her lover and biographer Tom Yates (Paul Sparks) was going to expose her and Frank's secrets, Claire poisons him, and her adviser Mark Usher (Campbell Scott) comes in to cover up the murder.
In a trailer for the final season, fans can see Claire dealing with some potential fallout from Tom's murder, while she manages Frank's death and dodges Russian ploys. The trailer begins with Claire addressing the nation marking her first 100 days as President, grieving Frank's death, but with no details on how he died. "I lost my husband, we were about to celebrate 30 years together," she tells the crowd, but then she turns to the camera to say, "Here's the thing. Whatever Francis told you the last five years? Don't believe a word of it. It's going to be different for you and me."
I've always been a Claire Underwood fan, and I'm excited to see her take office and run the country without Frank's pressure or sordid drama. How he died is still a mystery, so it will be interesting to see if she had anything to do with his death.
The sixth and final season of House of Cards premieres on Nov. 2 on Netflix.